Overnight in Frankfurt
We've made it to Europe!
We had intended to catch a train from the airport, but ended up giving in to the ease of a cab. I had been worried about getting Eleanor around in cabs, but it turns out that they all (or at least, all the ones we've encountered), have fabulous pop-up child seats built into the rear bench seats. The driver just flips up the base, and pops up a child seat. It's essentially a booster seat, and unfortunately would never be allowed for under-4's in Australia, but it makes life SO much easier. (My life at home has become increasingly car focused, because finding parking is more reliable than hoping that a cab with a child seat will be available.)
The cab driver expressed surprise at having tourists in Frankfurt; apparently its more of a business town, but the flight in from Dubai seemed like the easiest way for us to get to Leipzig. (Staying the night in Frankfurt, then on a train to Leipzig, rather than having to wait for connecting planes, then a train from Leipzig airport.)
Once the renovations at the Frankfurt Mercure are complete, it may be a good hotel, but on this occasion, the sound of power tools, the yet to be upgraded furnishings, and a terminally ill air-conditioning unit, left us in a room about as far removed from the Dubai Taj as you could get. Nothing really wrong with that though; it served its purpose and had us 5 minutes walk from the main Hauptbahnhof train station.
The Hauptbahnhof precinct was surprisingly (or possibly predictably) very much like the area around Sydney's own Central Station (right down to the station's tired looking eating hall, with Burger King just to the side). The street between our hotel and the station was dotted with beggars (many appeared to be recent refugees, but plenty of decidedly German looking ones as well). Much like Central Station at home, there were plenty of cheap ethnic restaurants, a gun shop (the one at home no longer sells actual guns, but it used to), several adult shops, and a smattering of more general businesses.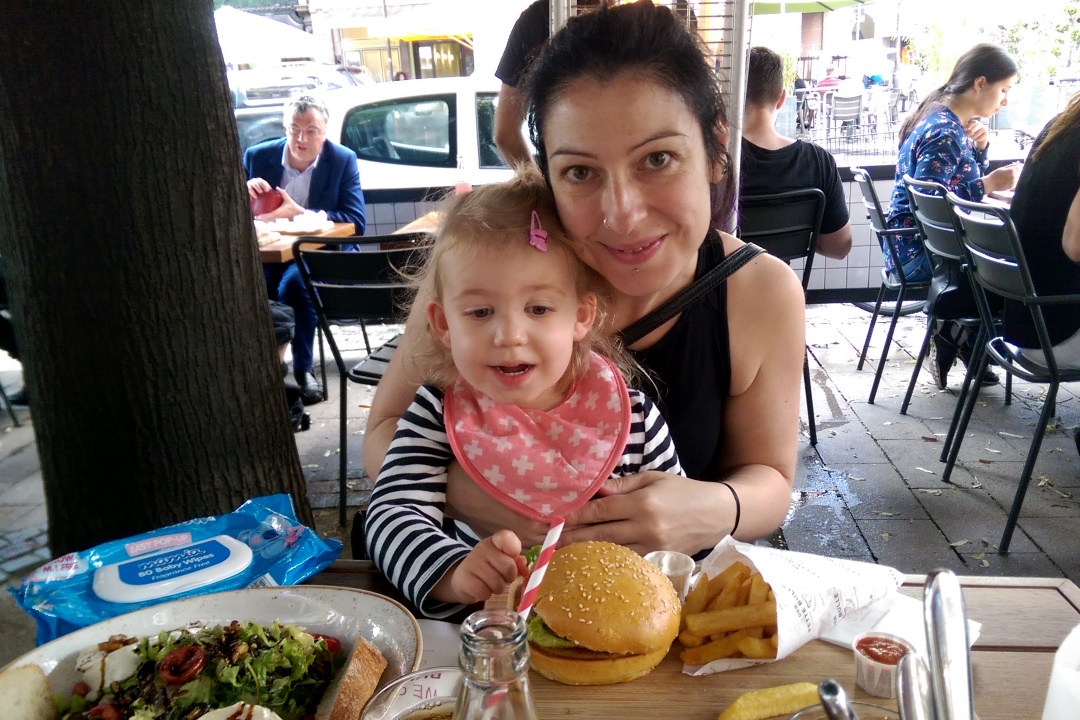 We chose the most German looking of the restaurants (partly because we'd just arrived in Germany, but mostly because we figured the chances of finding a better Chinese, Vietnamese, Turkish, etc, meal in Frankfurt, than we get in Sydney, seemed excessively slim). We ended up with a very pleasant burger and chips for Eleanor, and some other thoroughly adequate fare for ourselves (although I guess the fact that I can no longer recall what it was, says something).
We slept through most of the considerable overnight pedestrian street noise, but were woken at one point by a round of not overly angry sounding, "fuck you", "no fuck you", "mutha-fucker", etc, etc, from some young Americans walking down the street - their shouts slowly building, then drifting off again, much as the freight trains do past our house at home.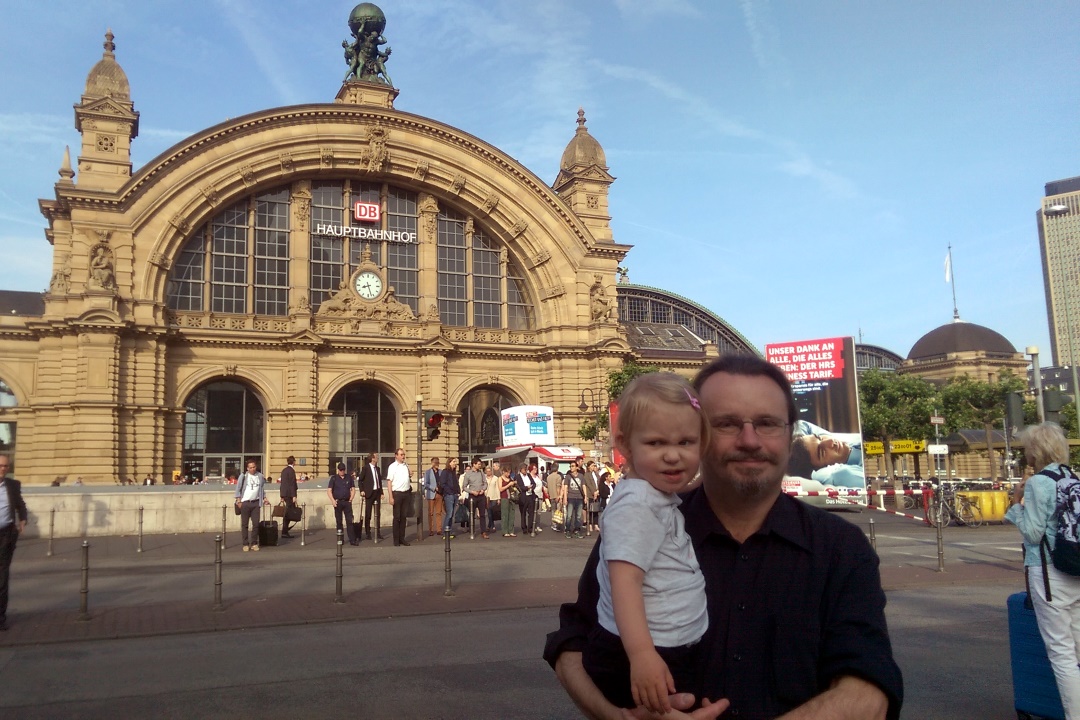 It was only a 3 hour train trip to Leipzig, but Eleanor was clearly over travelling, and wasn't happy to sit for even the shortest of times. Fortunately, the fancy ICE train was long, and the connections between carriages open, so we were able to do many, many laps down the aisles from one end to the other. Eleanor also made friends with a middle aged American woman sitting behind us, and they spent quite some time chatting and playing with the charitable woman's baggage (thankfully the retractable handle on her suitcase must have been of superior construction, as it was still working after a considerable workout).
So, that got us to Leipzig, where we have a week booked at the Marriott, but that's subject matter for another post.
Best wishes to our friends at home,
Alistair