A week in Berlin
We had intended a short visit to Berlin, before a leisurely train trip south to Italy, however, Eleanor's failure to behave on the train to Leipzig, had us reassess our priorities. We've now decided to stay the whole week in Berlin, then fly to Puglia (unfortunately with a 3 hour wait in Rome between planes), to arrive on schedule, on the 14th.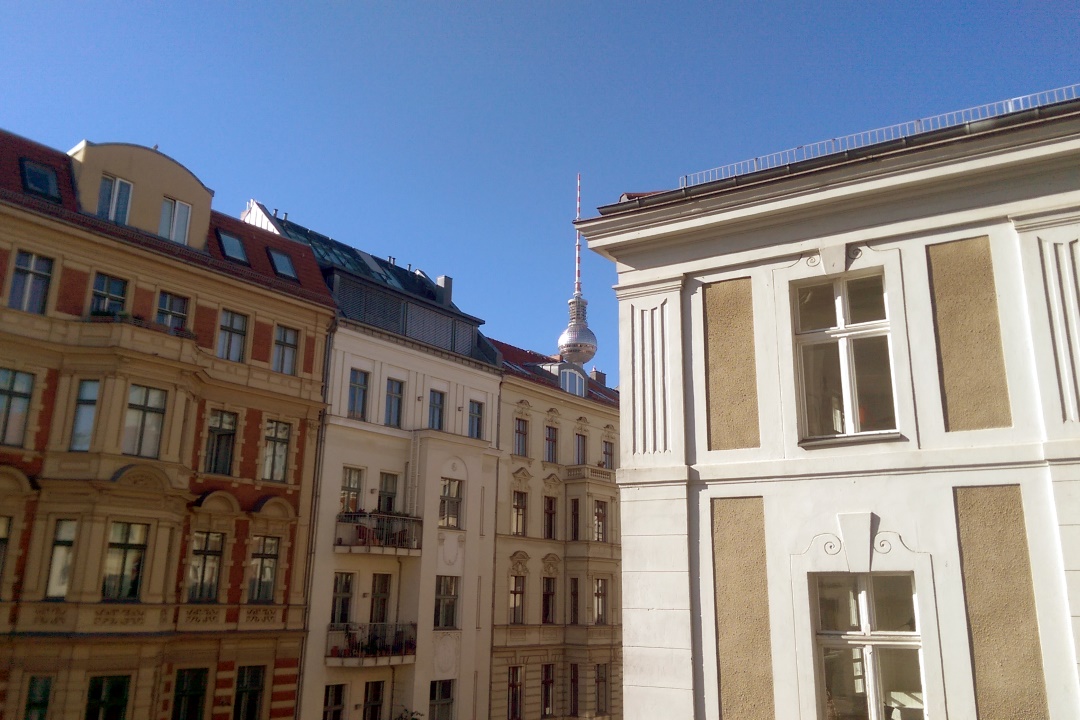 Our apartment (chosen for the trivial reason of being close to a laundromat) is exceptionally nice; a small, serviceable kitchen, light-airy living room, and small bedroom (with the bed and Eleanor's cot taking up 90% of the available floor space). It's very hot and steamy though, with the provided fans doing little to keep the room comfortable overnight.
Eleanor is getting used to watching cartoons in German, as well as some "funniest home videos" style programs. (We limit her television watching severely at home, but on the road, away from her toys, she ends up watching quite a bit.) I was amused to note that, as on a previous trip to Berlin, they are playing German dubbed Hogan's Heroes on the television. Does the warm hearted comedy, depicting a harmless Schultz and Klink, present a less confronting account of the Third Reich, or was being subjected to endless re-runs of humiliating television assigned as a war reparations penalty?
Thanks to a supermarket just down the road, we've had some simple home cooked meals, with a far better fresh vegetable count than we managed in Leipzig. I do miss the Leipzig hotel breakfasts, but sometimes it's nice to have a break from excess (healthy excess, though it was)! We are also thrilled to find that good coffee is easily available in Berlin (it probably helps that we are living near what appears to be a hipster district).
Last night we caught up with Julian and a delightful friend of his. We dined at the "oldest restaurant in Berlin", Zur letzten Instanz; a beautiful 400 year old building, surrounded by similarly old structures, including the ruins of a grand church. I got to have my first pork knuckle of the trip, and everything was extremely nice. The four of us shared an incredibly good "cheese plater for one", which was considerably larger, cheaper and better than any cheese plate I've found in Australia. Eleanor fell asleep before the cheese arrived, lying along the wooden bench seat, head resting on my leg (presumably far from the first over-filled patron to have nodded off in that same location over the centuries).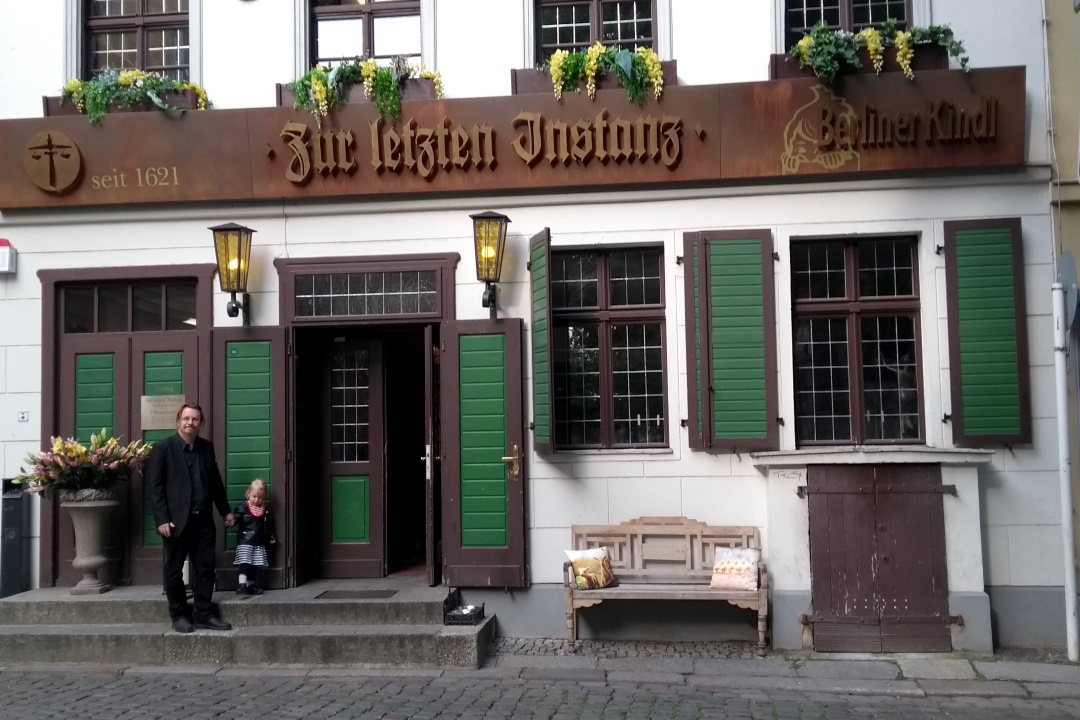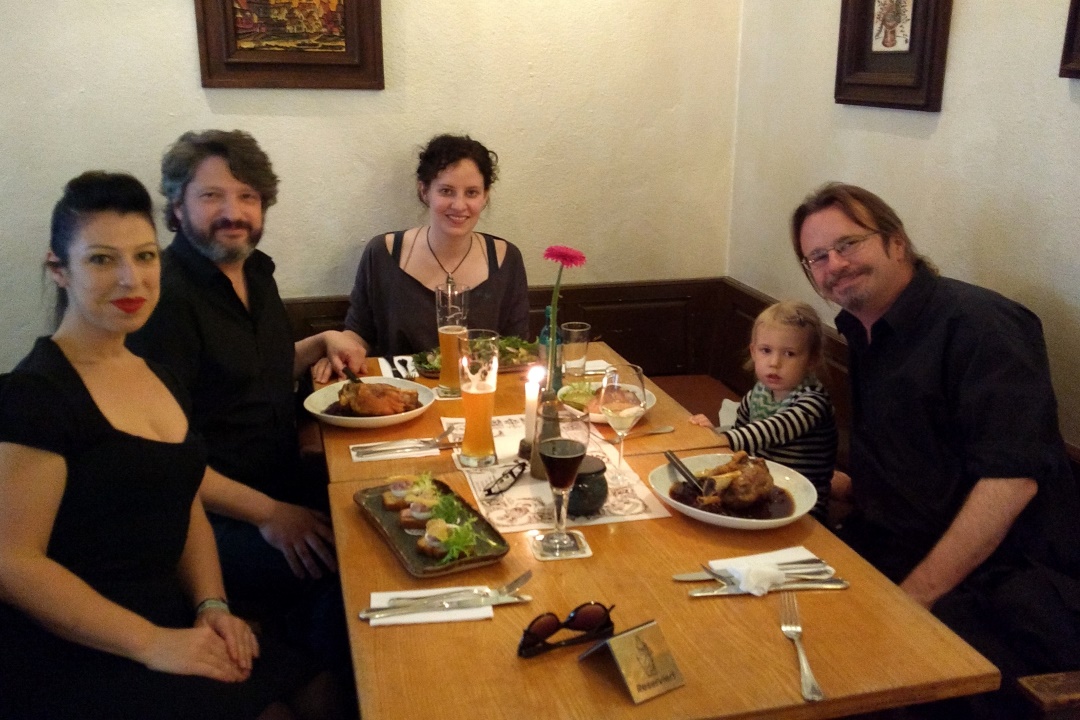 We'll be heading off shortly to find Berlin's Turkish markets, for some lunch and a little sight seeing.
Continued on Tuesday, 13th June.
So, the "Turkish Markets" were a bit of a disappointment, although the whinging of an unimpressed toddler and the stifling heat, may have had more to do with our negative view, than any failing of Berlin's Turkish community. The location, along a tree lined river, was beautiful, and the crowds and market offerings were suitably diverse, but it didn't capture the sense of Turkey we were expecting. (Berlin apparently having a huge Turkish community, and us hoping to make up for the fact that we weren't going to get to Istanbul.)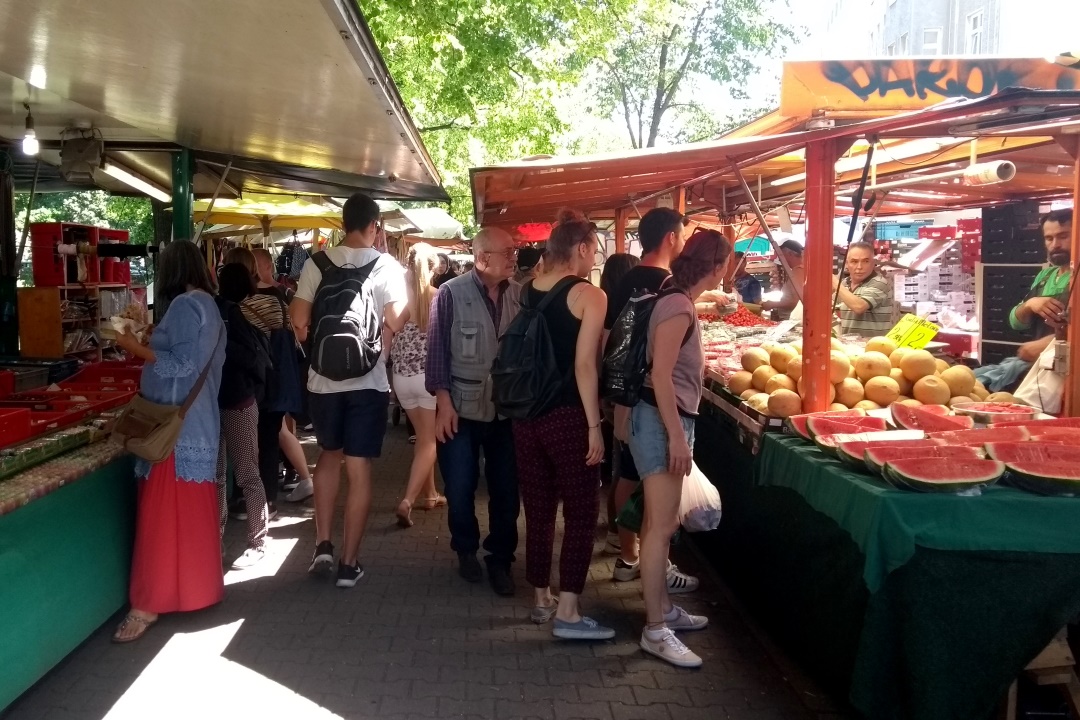 The biggest disappointment was the collection of dips we brought home for dinner. The Turkish Ramadan Bread (Ramazan Pidesi) was every bit as good as we get in Sydney, but the dips were mostly made up of cream cheese rather than pure vegetables and maybe a little yoghurt, and were really very heavy and boring. (I had been salivating at the thought of Turkish beetroot dip for days, and couldn't believe how bad it ended up being.) Can they not get the right ingredients here? Are they aiming to please the German palate? Have the Turkish here picked up the German palate? We don't know, but while the markets were picturesque, the produce we purchased was a bit crap.
We ended up having lunch at an "Arabic" café, that claimed no specific region. Their "Arabic" coffee was passable (but not quite the Turkish sump-oil consistency we'd been hoping for), their couscous salad was okay, and their falafel roll was quite good.
On Sunday we went in search of the perfect currywurst. Starting our trip to Eberswalder Straße with a wonderful walk through some beautiful streets. Along the way, we stumbled across a street food market, which fortunately was still being set up, so we got to see all the fabulous food trucks, in all their diverse glory, their equally diverse menus (even an Australian burger truck), without being diverted from our goal of locating an authentic currywurst.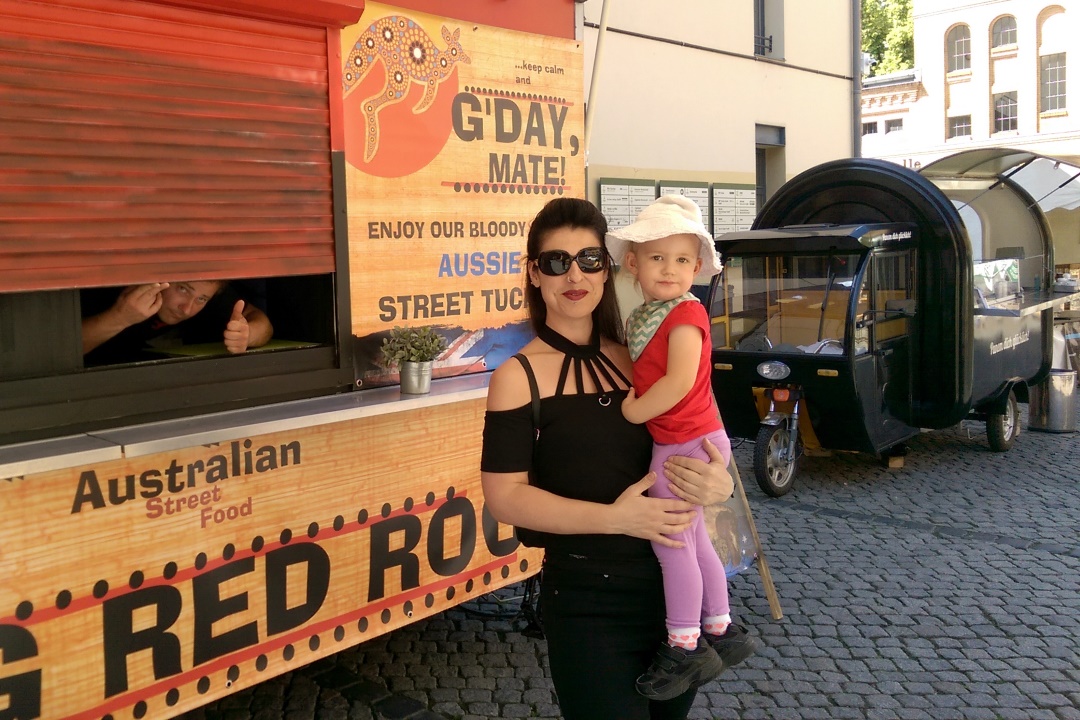 Our original aim was to find the vendor that Anthony Bourdain had visited on one of his No Reservations episodes, but it ended up not being open on Sundays, so we went around the corner to a hole in the wall place. We shared a single currywurst and pomme frites, as we weren't actually that hungry, but it was a great experience. Funnily enough, the currywurst place was actually Turkish-run, and it seems the local Turks make far better German food than they do Turkish food.
We rarely go to tourist sites, finding a local supermarket more interesting and representative of a culture, than a sterile, crowd-friendly, clichéd landmark. The view from our apartment window of the famous Berlin Fernsehturm Television Tower is great to see. Queuing up with a whole bunch of people from everywhere except Berlin, to go up the tower, doesn't interest us at all. (I'm just assuming that the tower is a tourist site, we haven't checked, but it seems pretty likely - actually, thanks to Google I now know that for a fee, it does of course offer me a "unique panorama and unforgettable view".)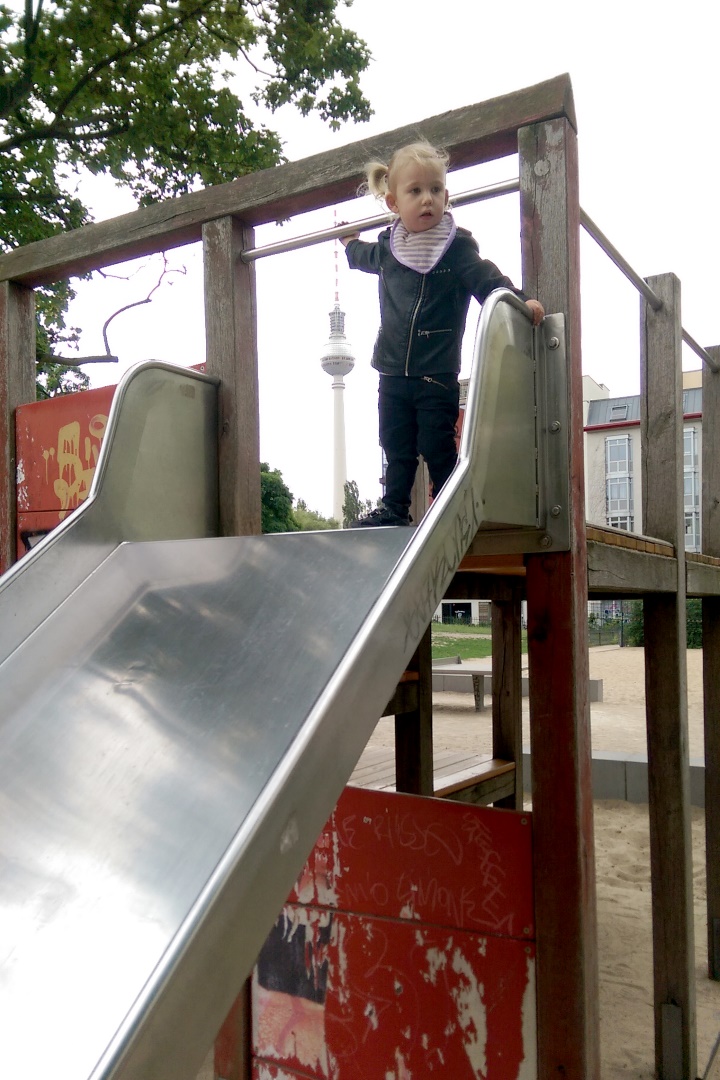 Anyway, our movements have been even more limited than usual this trip, with Eleanor needing to be continually watched and becoming stroppy if her wanderings are too often restricted ("Daddy! No hold my hand!"). Fortunately we're staying in a really interesting area, and have managed several walks and quick U-Bahn trips to other similarly interesting areas.
On Monday we did make an effort to be tourists, with a quick walk past the Brandenburg Gate, then across the wonderful Tiergarten park, and past the beautiful Siegessäule Victory Column. We snapped a few photos of the "sights", but ended up taking far more of trees, ducks and our daughter. I really do find such things as the old Soviet style buildings in former East Berlin, or the recent crop of graffiti and street art near our apartment, every bit as interesting, as well as more relevant and authentic "sight seeing" (and its considerably easier to get to).
We followed up the 3.5km walk across the park with another pork-knuckle-event, in a well rated Bavarian style beer hall, and then headed back to our apartment to rest our weary feet and stomachs.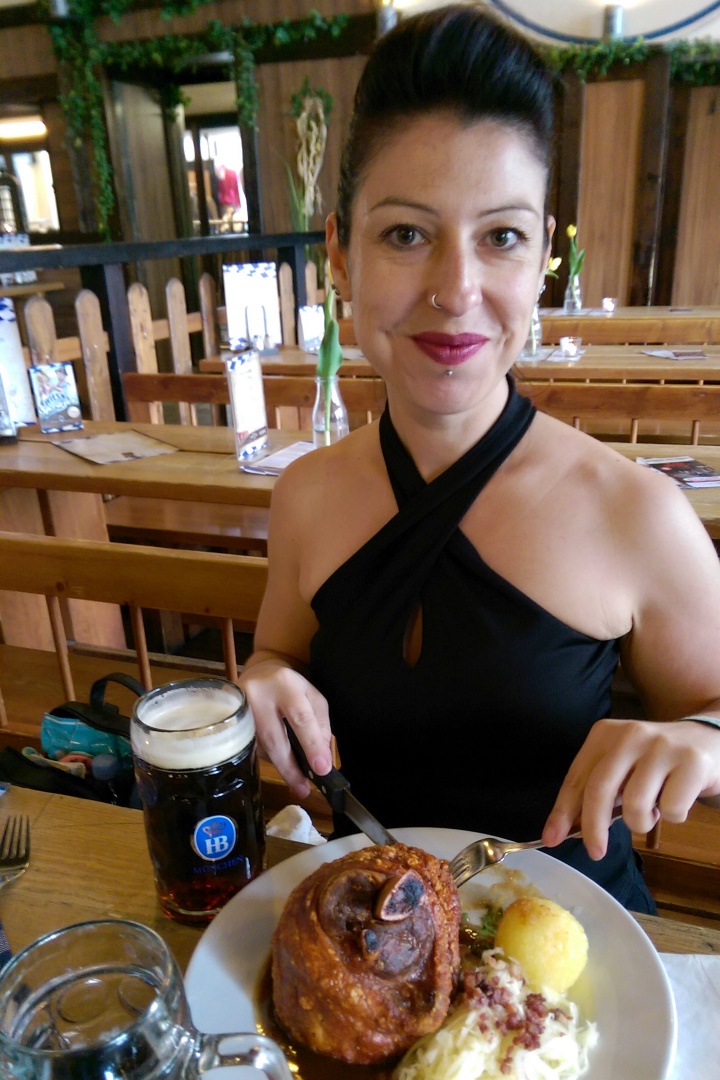 No real plans for today. Mostly preparing myself for meeting the extended family in Italy tomorrow evening!
Best wishes,
Alistair