Costanza's take on Frankfurt
We arrived in Frankfurt in the afternoon and shuffled into a taxi to head to our hotel, well what we thought was our hotel. Alistair having booked our German hotels together got the name wrong and so we promptly arrived at the Marriot in Frankfurt, but it turned out we were supposed to be at the Mercure.
So again in a taxi, and we were off to a more 'trendy' street in town, complete with no less than three adult shops in a one block radius, and many hipster restaurants.
We decided to have a bit of a wander before dinner and walked over to the station to have a look around, seeing as we would be travelling from there in the morning, and it was another way keep Eleanor entertained and start acclimatising to the new time.
On our return, we stopped in at a burger restaurant for dinner and chose to dine outdoors, not the best decision as within ten minutes it proceeded to rain and we were huddled under the restaurant's umbrellas trying to avoid the gaps which poured rain water.
Our meal was good, and though I usually avoid ordering kids meals at most places because they usually contain substandard ingredients, processed McProducts and always chips, this time it was easier to just do so.
I was glad I did, as though the chips were present, the hamburger was of exceptional quality and only a smaller version of the adult variety.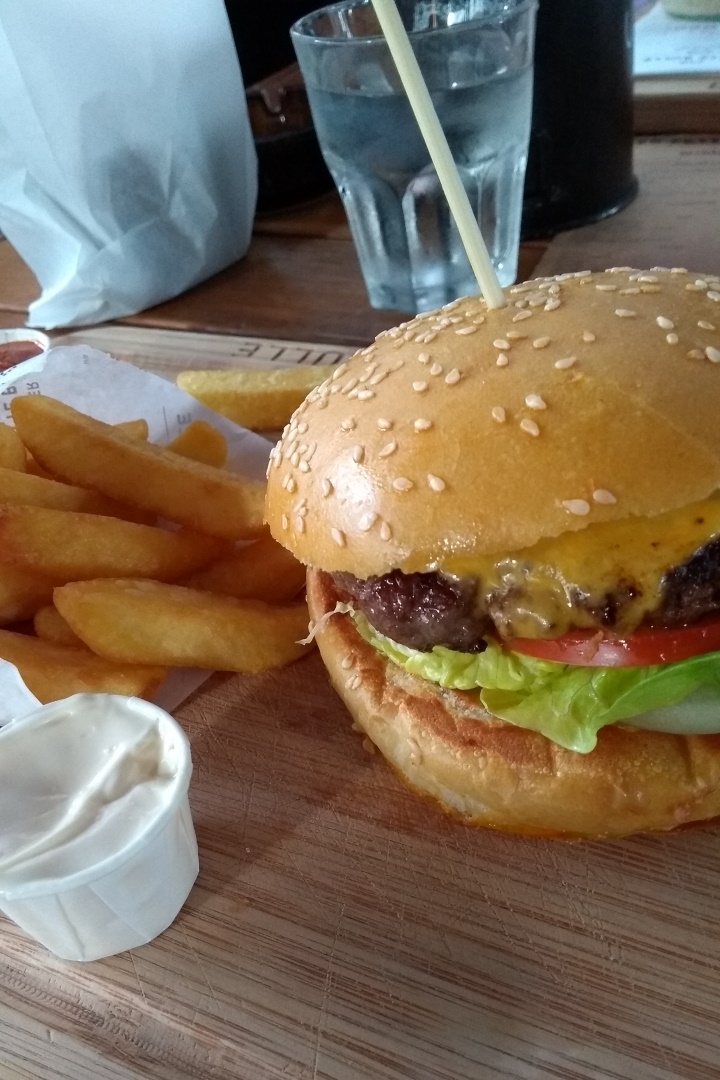 Alistair, avoiding meat chose the vegetarian burger with a side of coleslaw, of which he informed me was just as good as if there had been meat.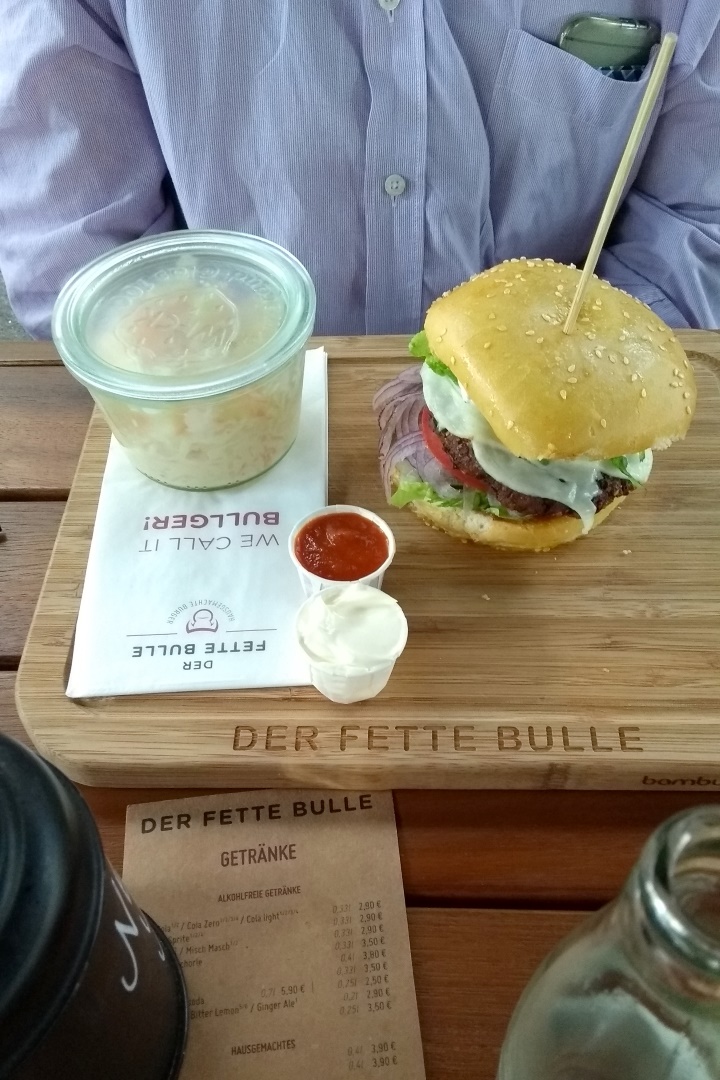 I felt the need to be healthy and wanted to eat light, so I chose the Parisian Salad with Goats cheese. As I am so used to the Australian way of minimal everything, I was taken a back when my meal arrived and not only was the portion huge there were two gigantic discs of goats cheese, ten centimetres in diameter by one and a half centimetres thick. I do believe that the dish should be renamed Goat's Cheese with a side of Salad.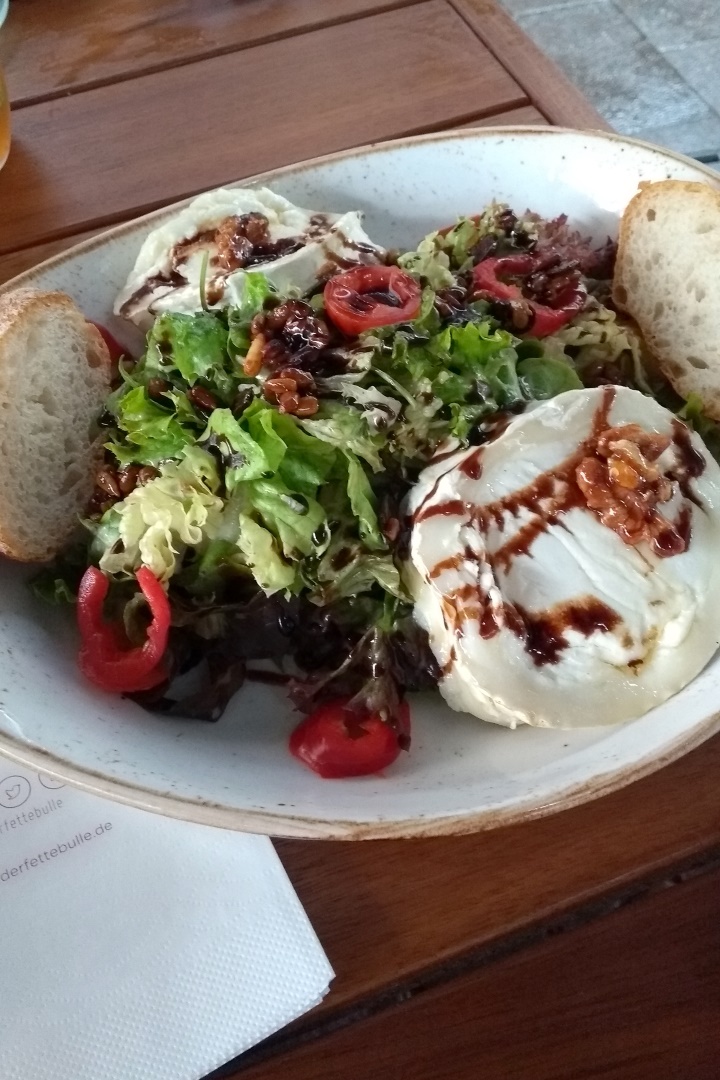 So a little damp and now completely full, we returned to our hotel and tried our best to sleep, needless to say, we did wake early, but that is expected with jet lag.
We checked out and headed over to the station for breakfast, where Alistair and Eleanor shared a massive cheese and tomato roll, and I had a Bretzel with a horrid coffee, before boarding our train to Leipzig.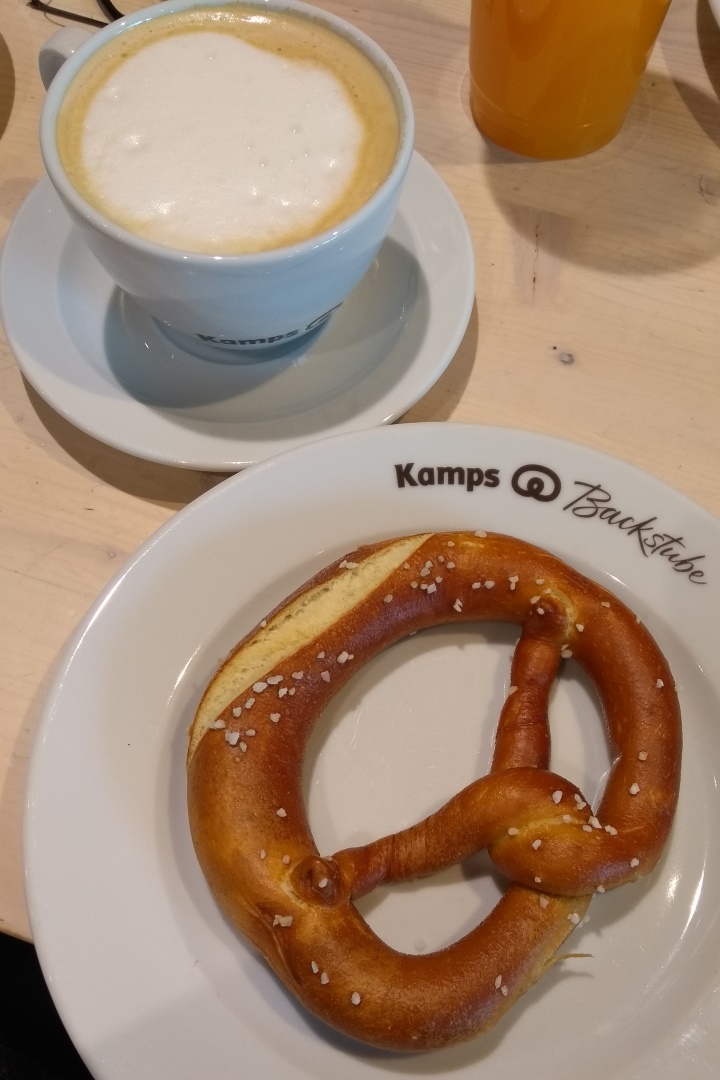 A little warning about coffee in Germany, the last time I visited there were no problems getting a decent coffee, this time around, it seems as though every eatery has converted to push button coffee machines.
Though it may be convenient and save money or time for most places, any milk based coffee tastes horrid as the machines are filled with long life milk and not fresh, changing the taste and truly making it unbearable. I learned pretty quick that unless there was a barista with a real coffee machine in sight, then it was only safe to have an espresso.