An Agriturismo, Pompeii & Herculaneum
Orria is beautiful, as is the delightful La Fontana Dei Monaci property where we're staying. The town dates from the 6th century, has a population of just over a thousand, and clings to the side of a hill, in the middle of a national park. What more could you want?
We set off last Tuesday with my parents-in-law, friends of theirs from Sydney (the wife is a relative, originally from Giovinazzo, while her husband grew up in Orria, which was why the town had been chosen) and a professional driver/minibus owner (also from Orria).
It was a 4 hour drive over the Apennine Mountains to the coast on the opposite side of Italy. The last 15 minutes were directly back upwards via many hairpin bends, along a hairy, narrow country road. Eleanor had turned a decidedly white shade and was whining uncomfortably by the end, but fortunately we arrived before the back seat was turned technicolour. She picked up as soon as we were out of the swaying minibus.
It seems that Google was giving me the temperature for a very different part of Salerno, because while it is slightly cooler here (particularly at night), it's still hot.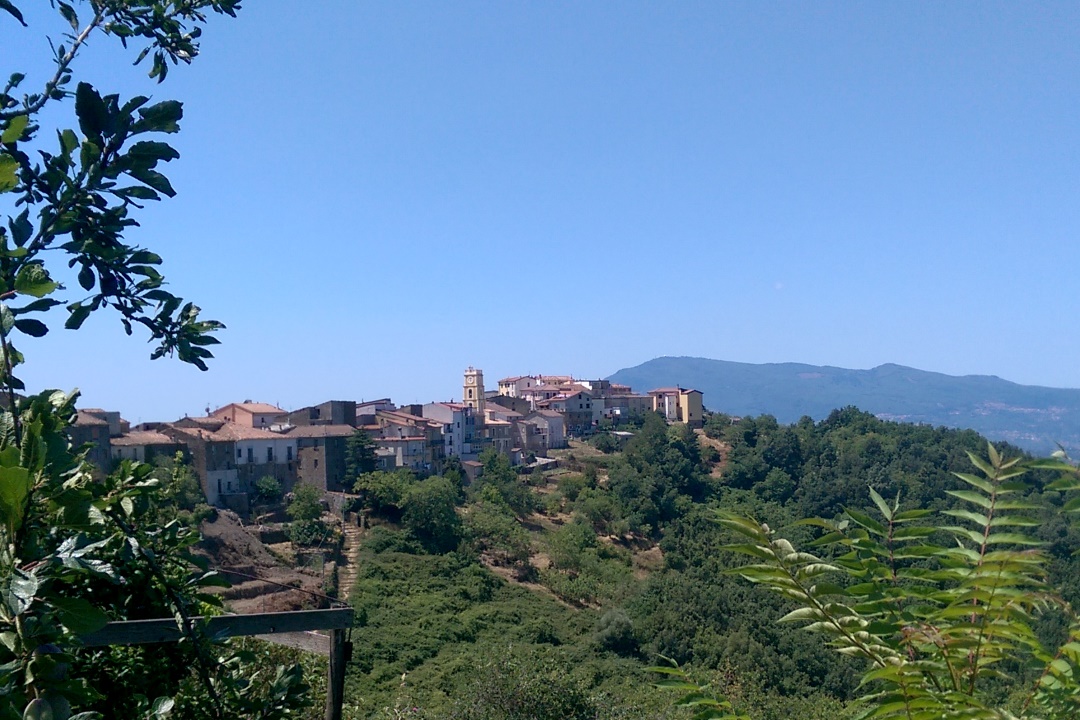 Our room has a balcony with a beautiful view of the various valleys and mountain top townships in the surrounding area. The Mediterranean Sea and the island of Capri are visible in the distance.
It's not at all what I was expecting from the agrotourismo billing that accompanies the place (I gather the term is used to describe a farmstay type establishment, but of a classier European style). I was assuming we'd have cows peering in our windows, but we're actually on the outskirts of the town, on the side of a mountain, and while I once saw a small tractor making its way down a windy dirt road that possibly forms part of the property, and have heard the occasional chook clucking, I've yet to see much of what would be considered agriculture in Australia. However, the fault is all mine there (and possibly also the typical Aussie view on these things), because the beautiful surroundings produce most of the food served in the marvellous restaurant. The varied apricot, apple, fig and other trees on the hill below our balcony replace any need for landscaping, and provide an endless stream of fresh fruit (imperfect in appearance, with pits and discolourations, but incredibly tasty – and essentially the exact opposite of what's available at home) and preserves. Somewhere hidden amongst the trees are veggie gardens, farmed rabbits and chooks, and most of what is needed to supply the restaurant kitchen. Added to this is locally sourced wild boar and various other products.
In short, it is definitely a farming property, just nothing like what I am used to. Having told Eleanor that we were going to a farm, she doesn't seem at all phased by the lack of farm animals, uniform fields or geometrically laid out orchards, and readily calls it the farm. (Much as she has no problem calling the apartment in Puglia our home, and refers to our actual distant home as our "other home" or "red rocker home" because we occasionally look at an old video of her on her red rocker.)
We had a glorious day trip to Pompeii on Thursday. Eleanor once again turned white through the hairpins, but we made it to the bottom, just as I was urgently looking for some sort of bag. I suspect the driver's recommendation to have breakfast at a small Pasticceria at the bottom of the hill was primarily made for the sake of his back seat, although the pastries and coffee were certainly good.
The rest of the journey was a backtrack north along the coast. They grow sugar cane in the area, and strangely, the flats around the road and the 1970's & 80's era of the dodgy buildings, reminded me very strongly of the Tweed/Murwillumbah region of NSW. The most obvious difference being the driving style, which is somewhat free-form regarding lane usage and rule interpretation, rather than just going as fast as they possibly can in a straight line, as they do in Australia (I suspect the Italian version leads to more accidents, but less fatalities).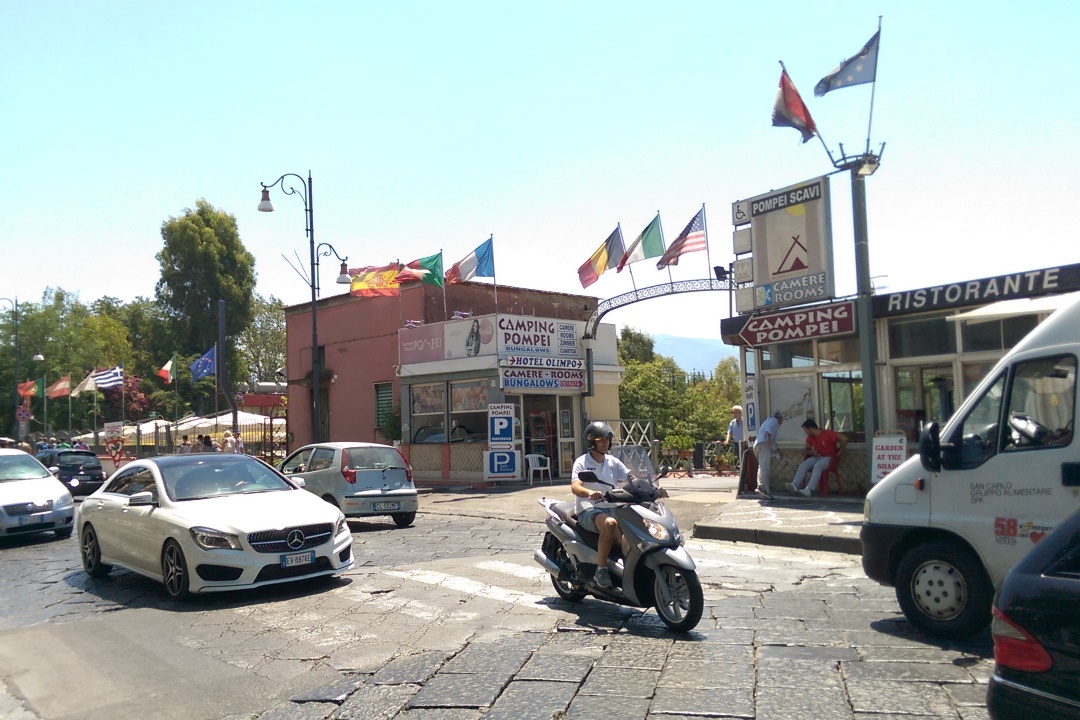 The entrance area around Pompeii looked like every other tourist site (of the successful, but "why bother spending money on it" genre), with plenty of spruikers pushing the superiority of their food, guides or authentic Emperor Titus era baseball caps.
We left Eleanor with her grandparents and their friends and entered the actual Pompeii excavations (for a reasonable 13 euros each), via the less used entry at the back of the site. We weren't to realise how beneficial this was, until we got halfway through the morning and met the bussed-in masses coming the other way.
Anyway, Costanza is planning to write about the site itself, so I will leave further details to her.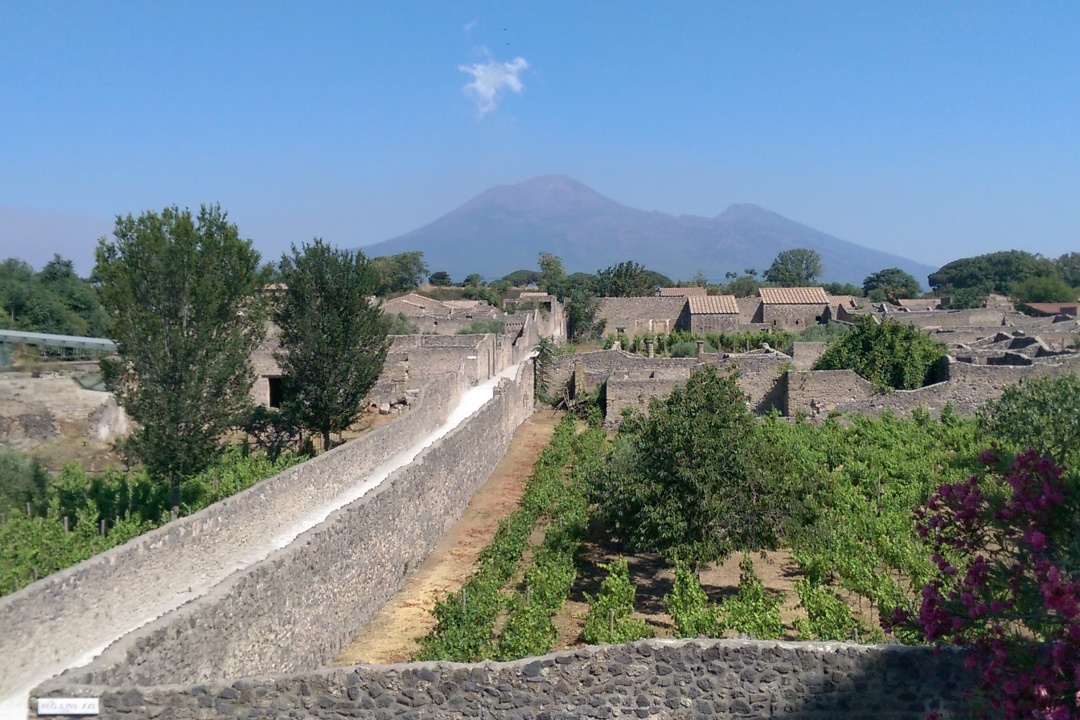 Having spent an insufficient 3 hours wandering the city ruins, it was time to rescue Costanza's parents from Little Miss Busy, so we headed back to the restaurant where our driver had arrangements with the proprietor (and what bus or tour driver doesn't have a specific restaurant/café/shop that just happens to be where you need to meet).
Italian waiters all seem to legitimately delight in children, and Eleanor had already collected a besotted fanclub by the time we got there. Lunch was very nice, even if I spent much of it running around after Eleanor (who was greeted by each waiter, "Ciao Eleanora", as we rushed from room to room). "But she was so good before you got here", advised her four older carers from earlier – confirming our suspicions that she just gets a kick out of terrorising us – or possibly, they had the well rested Toddler Jekyll, and we now had the overtired Ms Hyde.
On the way back, we stopped off for a brief walk around a cliff side town of Vietri sul Mare, at the southern end of the Amalfi Coast. Very beautiful, very hot, and most of the shops were closed for siesta.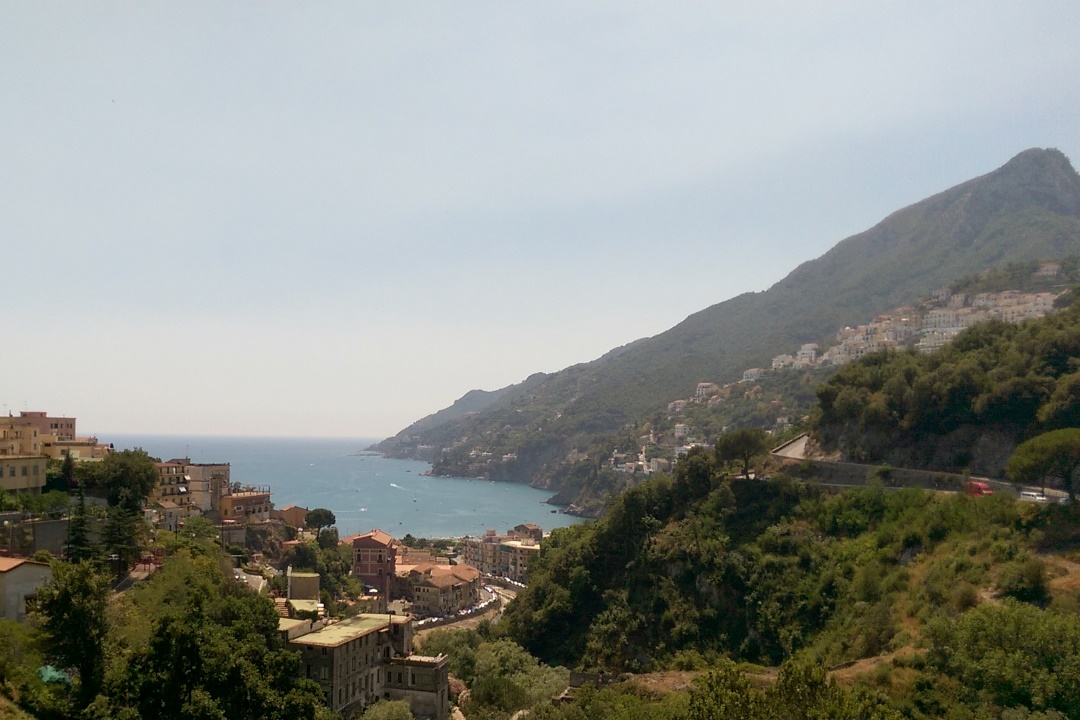 Eleanor enjoyed the little streets where she could jump around, mostly free of cars, tailed by her ever anxious father. Her Nonno enjoyed shopping for the colourful pottery for which the town is presumably famous. Her Mamma enjoyed pointing out to Nonno that he neither needed, nor could transport home, all the pottery he was intending to buy.
Back in Orria that night (with only a token few pieces of pottery), there was an annual festival for one of the locally supported saints, namely one St. Domenica. After a brief rest and shower, we headed into town and joined the tail end of a procession of a hundred or so, walking behind a brass band and assorted clergy, accompanying Saint Domenica's statue to a festival chapel, in a clearing on top of the hill.
If I hadn't been foot sore from our earlier Pompeii adventures and sleep deprived from Eleanor's previous bad night, I may have been better disposed to what was actually a very atmospheric and authentic type of event.
A Mass was held in the little, overflowing chapel, which gave us an opportunity to nab some of the few seats along the outside of the clearing, while the faithful were occupied. After the service, there were several stalls selling food. A euro for a large slice of watermelon, 1.50 for a plastic cup of wine, all sorts of cooked snack foods – it really was very pleasant. However, by 10pm both Eleanor and I were fading, so we headed off with Costanza, before the "young persons" band started strutting their stuff. It was a long and occasionally semi-vertical walk down the shortcut road, back to town. Along the way we bumped into a white cat and its elderly owner who Eleanor had befriended the day before, making a nice end to the evening.
Despite the saint's magical presence, I was disappointed to find that Eleanor hadn't been cured of her dribbling affliction. In fact, a plague of mosquitoes (well, possibly just two) were sent to torment me. Maybe I should have put some money in the plate? Oh well, I guess it's a saint's prerogative to treat us unbelievers as she sees fit.
The next night, the St. Domenica was brought back down the hill. We chose to sit outside the town's combined bar and pizzeria, to observe the procession, rather than do the long slog again (I should admit that we cheated and were driven half way up the evening before). The saint seemed unmoved by the whole business, but the pallbearers who carried her, the band members puffing at their tubas, and the clergy in their heavy robes, all looked decidedly rooted.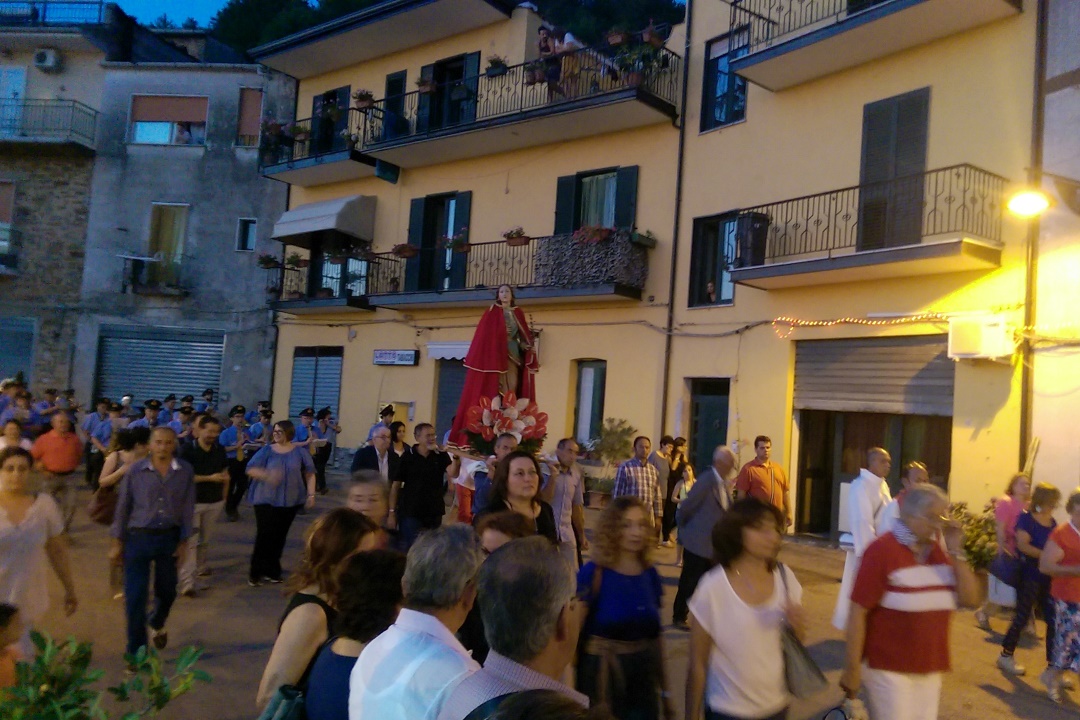 By the time the saint had moved on and a loud fireworks display had terrified Eleanor, it was very late. I chucked something of a tanty (table service had been postponed for the sake of the saint), wolfed down a margarita pizza with Eleanor, and took her back to the hotel – once again, way, way past any sensible bedtime for a toddler.
Saturday and Sunday were relaxed affairs. More good local food, some time to relax (and write) in the garden, and a chance to catch up with washing Eleanor's bibs (thanks for nothing Domenica).
During a luxurious lunch at the Agrotourismo on the Sunday, my assumptions about the town's inhabitants were rightfully corrected, when a cycling group of twenty or so made their way up the winding road past the property, on their state-of-the-art bicycles (not a hayseed to be seen). I recognised several faces from those who visit the secondary piazza in front of the pizza shop in the evenings. Those bloody Lycra riding suits and the cycling fad for middle-aged men seems to be a world wide phenomenon!
On Monday we loaded into the minibus at 7am; this time, being given the middle row of seats, which left Eleanor a little healthier looking, when we'd completed the hairpins. We headed back all the way past Pompeii to the amazing excavations at Herculaneum. The smaller, less damaged site was magnificent, and I personally preferred it to Pompeii (as did Costanza).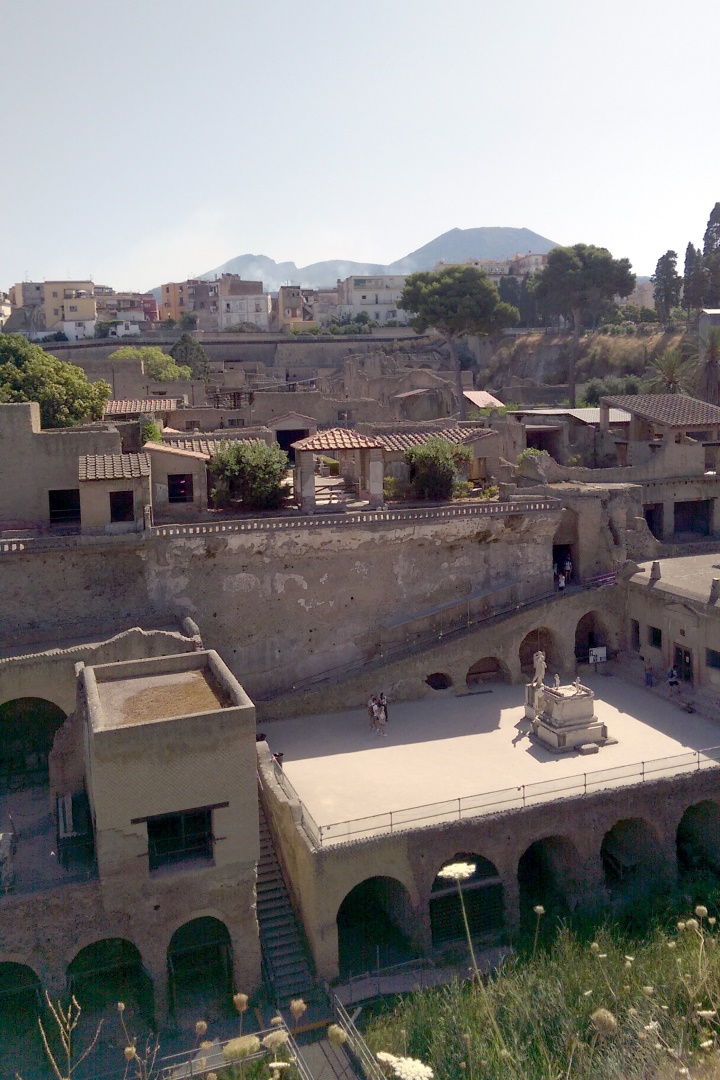 Not having much time to spare, we'd decided to have a quick lunch, before driving to the ancient temples at Paestum, which was over halfway back to our hotel. Unfortunately, while we were distracted, a decision was somehow made to buy lunch at a shanty town of tourist takeaway stalls and souvenir shops in the parking lot at Herculaneum, where they'd clearly been trying to hawk some of the pizza slices since before Vesuvius's eruption.
Who eats at an unbranded tourist takeaway, for whom the need to build "good will" in anticipation of return custom, must come very last on their list of business imperatives? Certainly not us, so my good wife and I had no choice but to rudely refuse the sub-Seven-Eleven-4am-on-a-Sunday-morning-standard "pizza" slices that had been bought for us (without our consultation), and walk down the road to an overpriced, but at least competently presented pizzeria, for a couple of reasonably good Caprese Panini.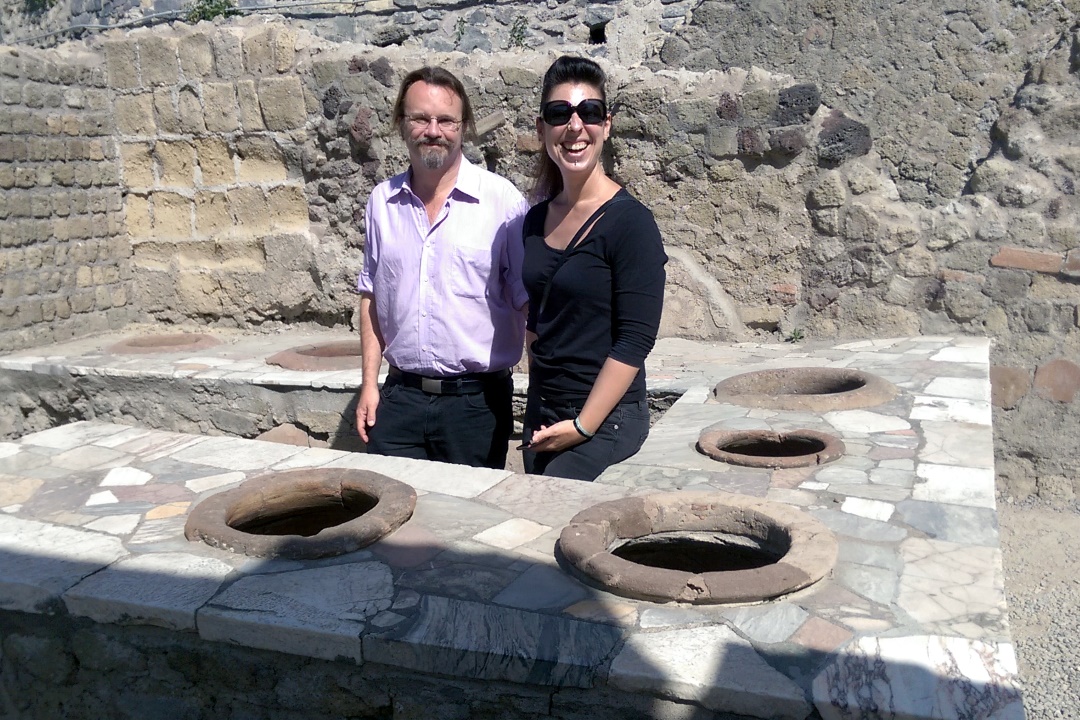 Sure we ate in a tourist restaurant at Pompeii, but the driver had staked his reputation on that one. We didn't need TripAdvisor to tell us that all five of the combined food and souvenir stalls in the Herculaneum carpark rated well in the "worst pizza in Italy" category. As it turned out, our travelling companions were too busy feeling mildly unwell, to remain offended by our rejection of the food they'd bought us.
Eleanor was well and truly overtired by the time we headed off to Paestum, and she spent most of the 70 minute trip demonstrating to her grandparents (at 90 decibels), why it is that we say she has something of a difficult temperament. Paestum is down at sea level, and the last quarter of the trip was along the coastline beaches, where row upon row of beach umbrellas and recliner chairs are available for hire, for those that want to sun themselves.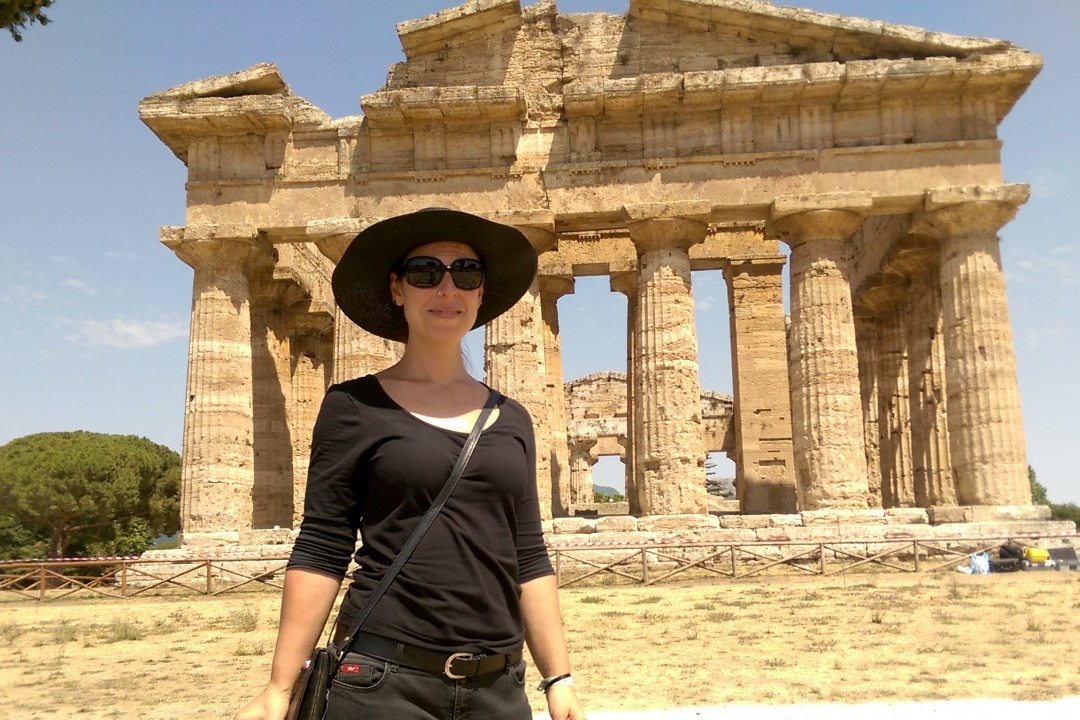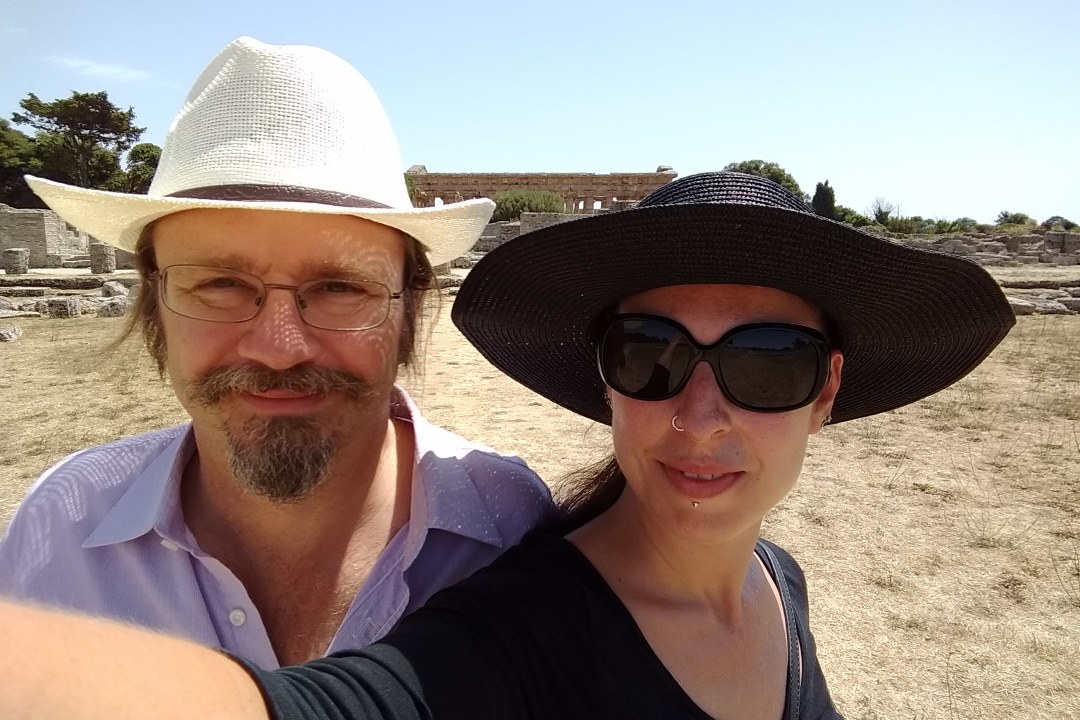 The archaeological site itself is very flat and large, and covered in huge stone blocks from the former buildings of the area. Three temples have been reconstructed, and they are really something to see. The driver gave us the option of just driving around the perimeter of the site, because most of the grandeur can be taken in from the road. However, I'm really glad we antied-up the 9 euros each for entry (plus 15 euros for two hats, because we'd forgotten to bring any, and shade was extremely limited). The atmosphere was amazing. Apparently they hold music concerts there, which would really be something to experience. One hour was all we could spare, but I don't think my sore feet or rapidly reddening skin could have taken any longer.
Back to Orria for a brief nap, then a lovely home cooked dinner with our travelling companion's brother and sister, who still live there, then a final walk back to the hotel, through the lovely town. We're returning to Puglia early tomorrow, to what Google tells me will be a 36° day (sigh).
Best wishes,
Alistair