Farewell to Puglia
It's our final night in Giovinazzo, before heading off to the airport in the morning, and on to Switzerland (despite HSBC and Swiss Air's best efforts to foil our travel plans).
Over the past two months we've managed to mortally damage a stroller on the uneven cobblestone streets, destroy a mop on an almost daily floor cleaning exercise, and turn a new pair of Blundstone boots into a prematurely aged pair, permanently ingrained with dust. However, overall, we've had an amazing time of it. So many of Costanza's relatives have taken great efforts to look after us, and we really have been able to experience a lot of normal life here.
Food has been one of the main thrills: The gelato is superb, the pizzas are superb, I was too much of a wuss to try raw seafood from the Mediterranean, but my wife assures me that it was also superb.
I wish I had recorded the sounds of Giovinazzo. The raucous voices all round (in every direction and from above), mothers shouting at children, mechanics testing engines across the road (from a ground floor business in an apartment block), motor bikes racing by in the streets, car horns and shouted disputes between drivers, a band down the road most weekends, etc. However, I won't miss the vehicles with speakers pointed out their windows, blaring out political messages or hawking farm produce (another aspect of the South that reminds me of travels in the 3rd world).
Some more outings
Two weeks ago we went out to the amazing Castel del Monte with some of the younger family in two cars. The 13th Century Castle is an amazing structure of varying marble finishes and geometric angles. The castle is hexagonal, as are each of its 8 towers. It is mostly empty, but houses a number of modern art works.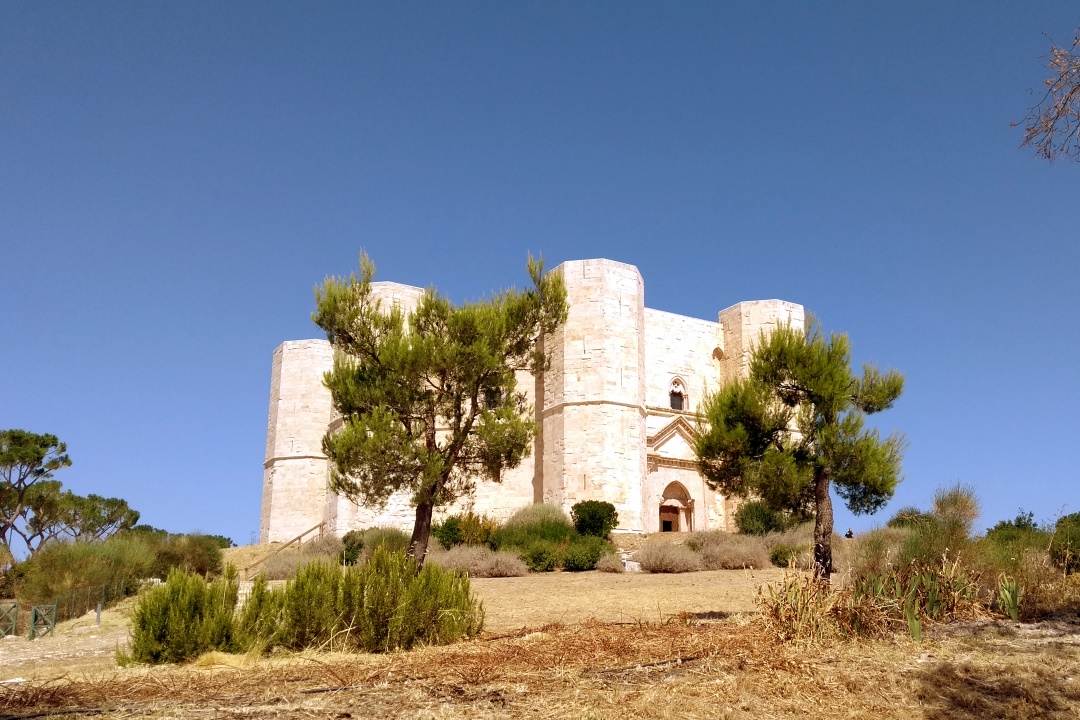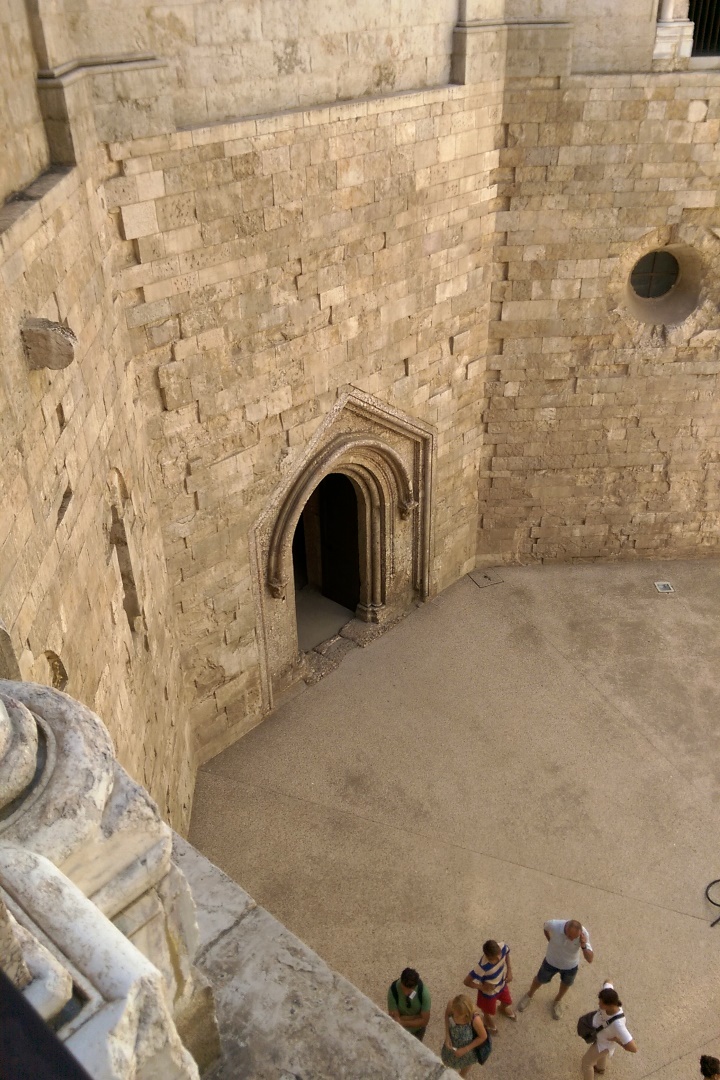 That evening we were taken out by some other family members to Bari, the capital town of Puglia, only a half hour or so, to the south-east. We walked (and walked and walked) around the steep old town, stopped for some panini, then walked back to the cars along the wide promenade of the old town walls (as flat and uniform, as the inner town streets had been hilly and haphazard). Another late night for Eleanor, but really something to see.
Our Final Week
With the end of our stay in sight, things have shifted into overdrive this past week. All the various family groups have wanted to see us before we go, and we in turn wanted to take them out (as is the custom) to thank them for all the considerable hospitality they've shown us. It had been hard enough coping with two family feasts a week, but now we've been hit with up to two a day! Just to make things harder, southern Europe is currently suffering from a heatwave and we've had a humid 34° to 37° for the whole week, with the nights not much cooler. On top of that, because there hasn't been rain for some weeks, the drains haven't been flushed and the city has taken on a decidedly unpleasant odour.
Last Thursday we had a huge dinner at a relative's house. Eleanor had so much fun playing with their 2yo boy (and all his toys) and was so overtired when we finished up, near midnight, that she screamed her head off ("I don't want to go. I want to stay here!"). On Friday we went to another relatives house for a wonderful, but over-large lunch (several courses of course). I bowed out at 4pm to walk Eleanor home in her stroller (about the only way we get her to have an afternoon nap), leaving the rest to carry on. On Saturday we put on a big lunch for 18 or so of the family we wanted to thank (a multi-course affair at a restaurant, with booze and seafood - costing less than it would for single main in Sydney - my only complaint would be that I really don't like the local white wine). That evening we went for a look at the coastal town of - um, well somewhere famous anyway - with some of the younger family members. The 3 cars of our party took almost an hour to find parking in the town, which was overflowing with people for a religious ceremony (although it may always be that busy for all I know). The night was particularly hot and steamy, and we had quite a time making our way through the crowds. Eleanor and her 2yo cousin had a great time running around, as well as being doted over by a 12yo cousin. Our reason for being there was to see a beautiful old cathedral, and the even older church in the structure under it. I don't know if another Madonna Festival had been part of our plans, or if it was just a coincidence, but there was a very large number of clergy milling around, waiting to see off a Madonna statue that was being taken to another town on a boat. This got under way a bit later, and we only got to see the colourfully lit up boat and a huge fireworks display. (Eleanor's second fireworks display had her in my arms again, hiding her face - I guess its the lound noise that terrifies her.) However, what we'd been told would be a quiet night, ended up including another restaurant (fortunately just pizza and an included first course of chips and a small panzeroti), then everyone headed back to the Giovinazzo Piazza for gelato. As much as I could have done with being home in bed, it was interesting seeing the piazza after midnight. Plenty of babies asleep in strollers being pushed around and young children running about! People everywhere. Fortunately home was now within walking distance, so we bid our farewells and thanks, and escaped by 1am to the air-conditioning and lumpy bed of the apartment. Sunday had another family lunch and a toddler's night-time first birthday on the agenda. I couldn't handle it, and had to chuck a sickie (missing out on a pig on a spit), but Costanza and Eleanor faced the heat and made a good showing of it.
Monday morning was a really nice outing on a small boat owned by one of the relatives, so that we could see Giovinazzo from the sea. Eleanor went to stay with her nonna and nonno, and we had a wonderful hour on the water, followed by brioche and gelato (essentially an ice-cream sandwich) for brunch. That night there was another dinner with family. I managed to bow out of that one too, while Costanza and Eleanor had a wonderful, if late, night. Tuesday was a bit quieter with a sedate evening watching a family wedding video with drinks and snacks (although there were several courses of those). Wednesday we took some other family members out for a "thank you" lunch. In the evening we went to a "panini festival" in the open space that holds the weekly markets. With a title like that, I was expecting a quiet evening, but the "panini festival" included a large stage with bands, and it seems that all of Giovinazzo was there, from the youngest to the oldest. It was another incredibly hot night and the crowded event felt more like a Big Day Out (nonna's and all), than like the food festival I had expected. Everyone seemed shocked and disappointed when we called it quits at 11pm.
Finally, today has been one of packing and cleaning up the apartment. A final lunch of cheese from our local Latticini shop (a fresh cheese shop) and parmigana and bread from our local bread shop. Tonight we are going to a great restaurant around the corner, facing the Mediterranean Sea, to have pizza with some of the "younger" family members, and Eleanor gets to say farewell to her best friend of the past two months.
I gather two cars are collecting us in the morning. We will be having a 3 hour stopover again in Rome (Swiss Air have a direct flight to Zurich, but due to a falling out with them, we are now flying with Alitalia, and I will never book with Swiss Air again). Looking forward to a comfy hotel bed tomorrow night, in a city with sensible temperatures.
Until my next post,
Cheers,
Alistair