Back in Puglia
We've been back in Giovinazzo for some weeks now and life has taken on a predictable rhythm. We've had some lovely outings with Costanza's relatives. And, when we're not returning late from a drive somewhere, we go out to the park (so Eleanor can play on the slide) and/or we go to the Piazza to hang out with some of the family (while Eleanor runs around madly and delights in all the attention).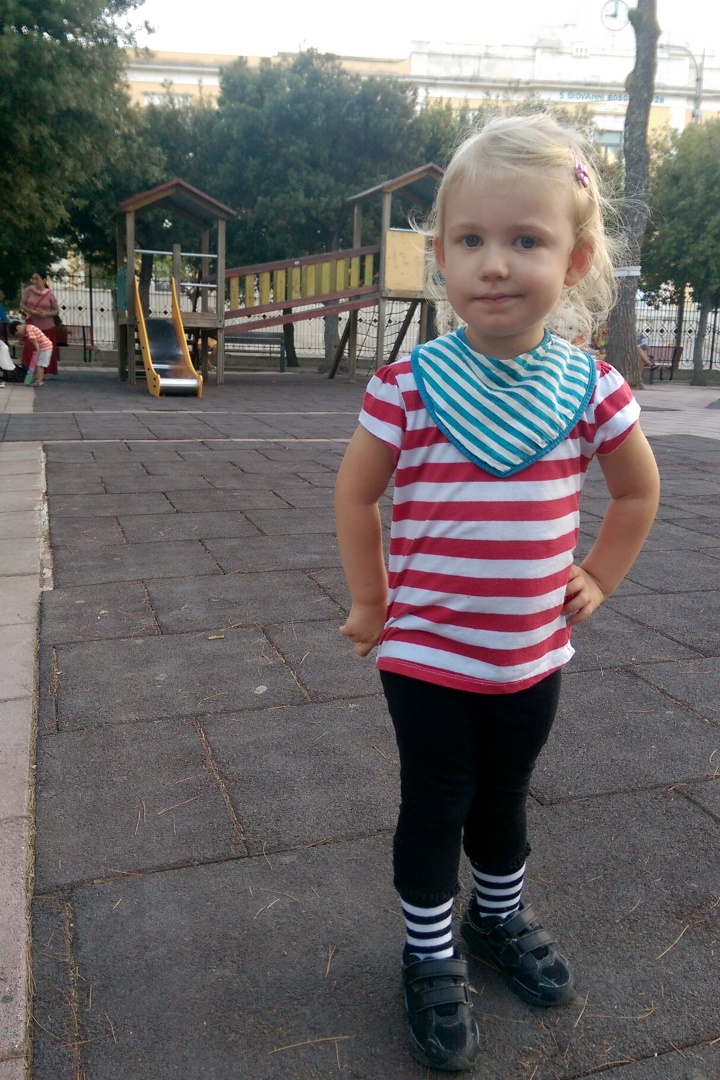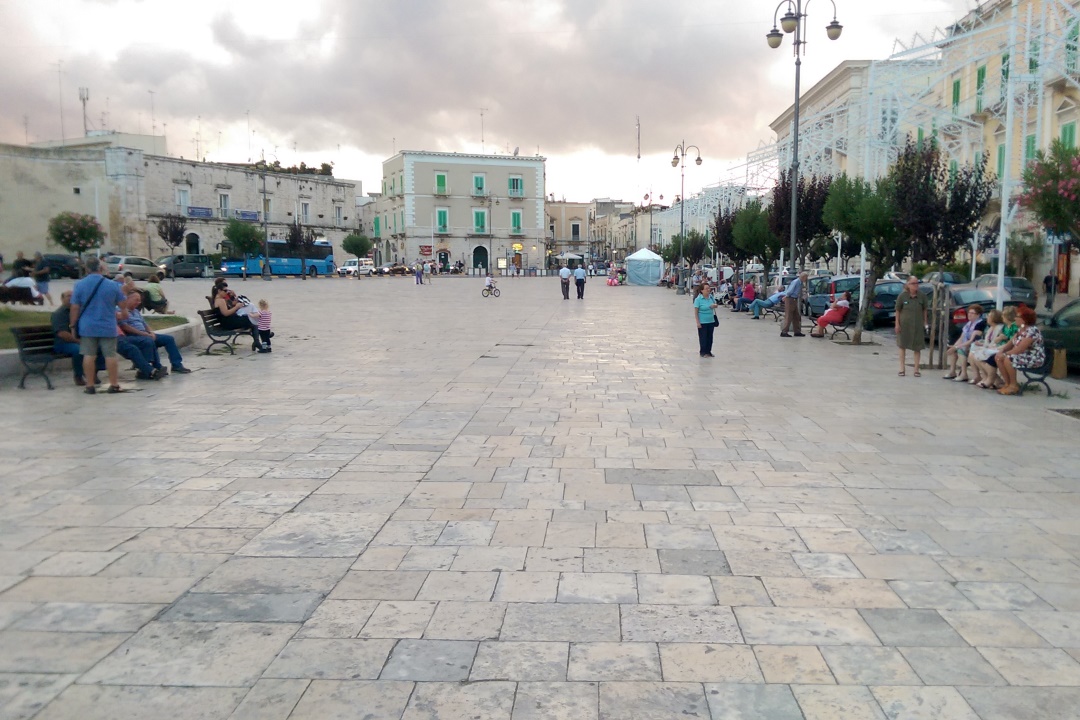 If nothing is planned for the day, I usually hide inside, hugging the air-conditioner. Costanza tends to make better use of her time and has been braving the heat to go to the market or visit her relatives. There are three relations of around Eleanor's age, which has been fabulous for her. She chats away to them happily in English, while they shrug their shoulders and chat back in Italian.
Eating out is cheap, but more often Costanza cooks something simple for us in the apartment. The meals we have with family once or twice a week tend to be big enough to turn us off the idea of food for a while. For breakfast, Eleanor and I content ourselves with a home made muesli (finding oats was difficult here, but we got tiny packets eventually, mixed with all-bran, sultanas and bulked out with cornflakes, is the best we've managed, but it's still good — looking forward to getting home to some Weet-Bix though). Most mornings Eleanor watches a bit of Peppa Pig, Dora or whatever else is on, all in Italian — it's been so long since I've watched a non-children's non-dubbed programme, that I may not leave the house for a week once we get home (I hear there are new seasons of Game of Thrones and The Expanse, and the last few episodes of last seasons Dr Who, now available).
An outing to Grotte di Castellana and Alberobello
A couple of weeks ago we headed off with some of the "younger" family members (the one's who are roughly our age) at a civilised 10am, driving for an hour or so to Grotte di Castellana.
The trip there is through many Olive groves (that no longer seem to be commercially managed), fig & nut orchards, and vineyards. I was surprised to see that one long country road appeared to be the local red-light district, with a prostitute or empty seat every 500m or so, under the shade of grape vines. Some sat on whatever was to hand, while others had white plastic outdoor chairs. Some tried to look seductive, but most only managed bored and tired.
The Grotto is a series of large volcanic caves, complete with stalactites, and reasonably similar to Jenolan Caves at home, although with less caves, but some of them were considerably bigger. Attaching religious significance and names to the various natural structures seemed to be important, protecting them (and not blowing holes through them to install an elevator) apparently less so.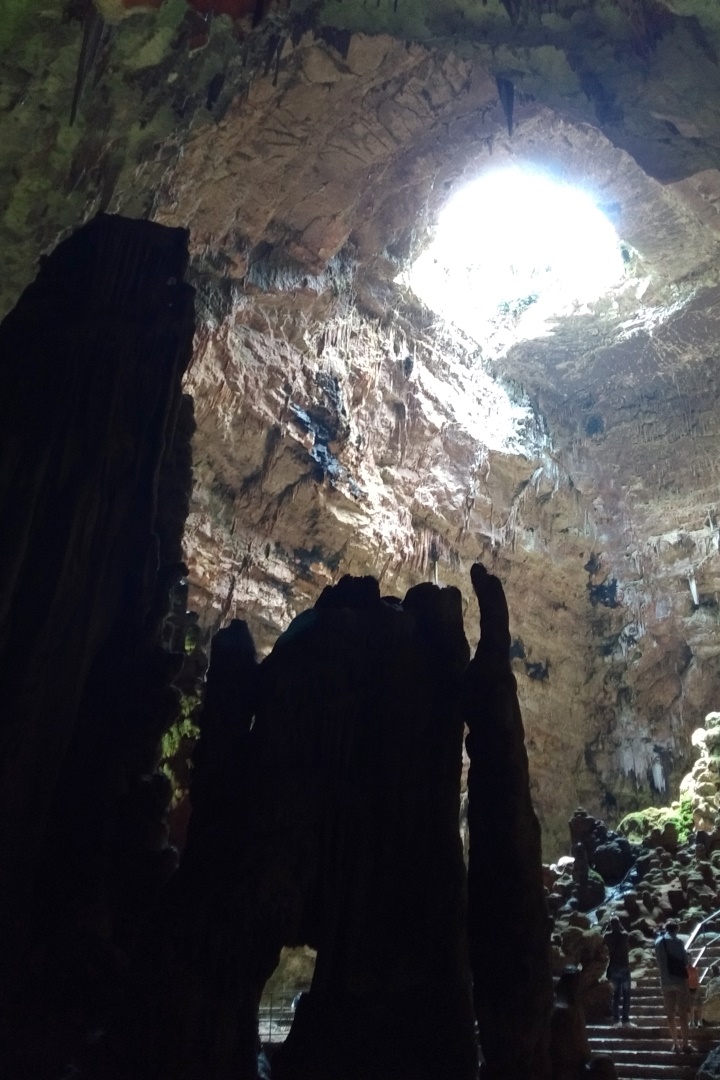 We were running a bit late for lunch, but after a couple of false starts, we got lucky, finding a fabulous paddock-to-plate place that cooked us up a veritable carnage of dead flesh. I'd been mostly vegetarian all week, due to a gout flare up, so was glad to break my healthy streak with such a superb collection of meat, although I did try to balance it with the vegetarian option, which turned out to consist entirely of slices of the local rugby-ball-shaped cucumber, plus the default large basket of bread.
We then went to the picturesque town of Alberobello with its famous Trulli buildings. The local countryside features plenty of these structures, but a whole town overflowing with them was quite a sight. It's all on the side of a hill, and we had quite a workout, walking up and down the steep streets. Fortunately this was followed with very nice gelato to counter any unintended effects of the exercise.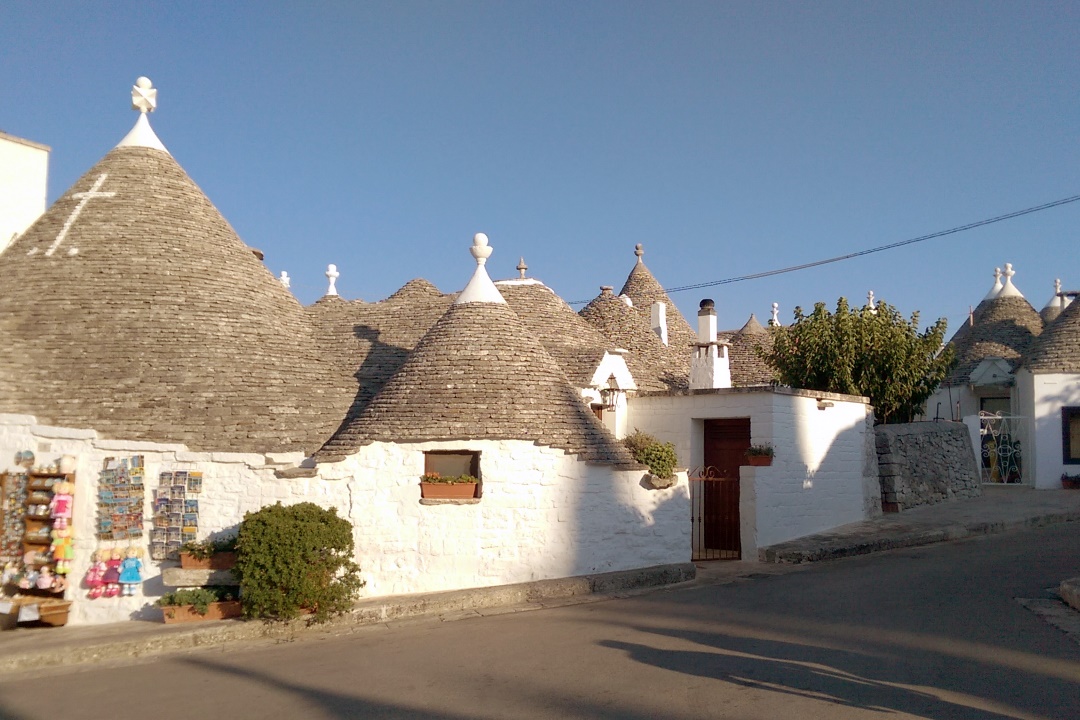 The trulli town had a Madonna festival going on (yeah, sadly not that Madonna), with a big procession of folk who looked like their god really wasn't looking after them very well, as well as an accompanying brass band and dressed up clergy, shuffling down the main street. The Madonna looked very much like a Gowings department store mannequin, complete with a permed, blondish wig; whilst the poorly sculpted Baby Jesus looked creepily like a ventriloquist's doll, complete with the virgin's arm disappearing somewhere up his nether-regions. I'm not sure if the whole thing is intentionally tawdry looking, or if the church just can't be bothered diverting funds from its child grooming endeavours. You'd think that their omnipotent deity would bother tossing at least a little magical glitz over this sort of event.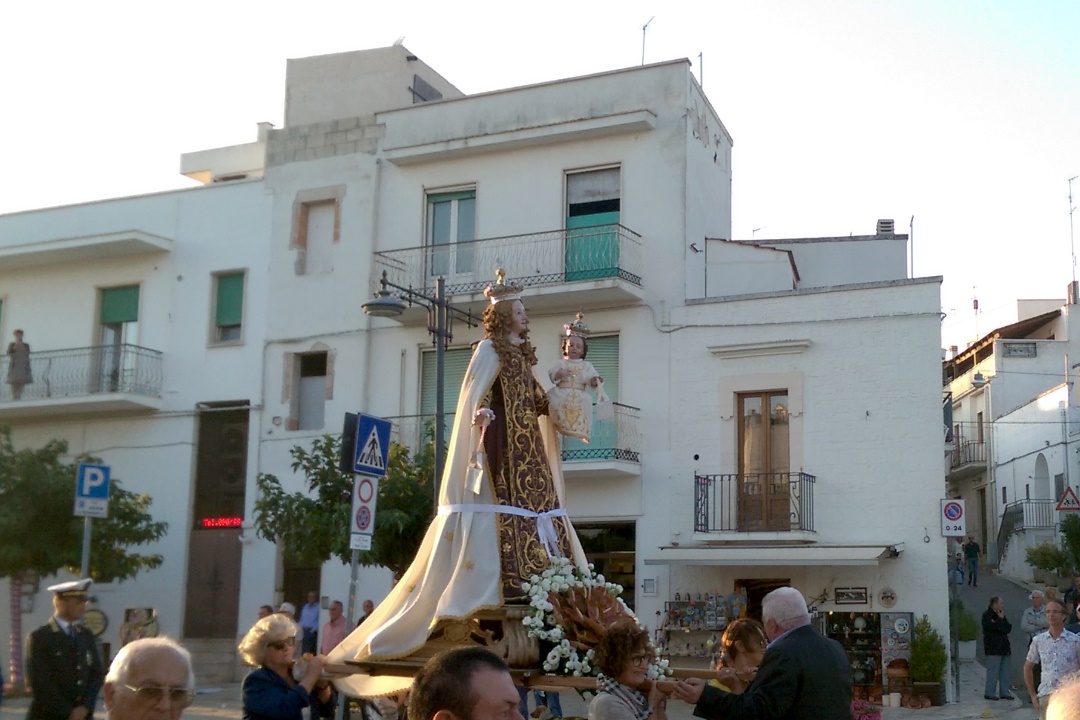 Lunch at Minervino Murge
Last weekend we drove back out to the countryside to visit the hilltop town of Minervino Murge. Apart from taking in the picturesque location, the main aim was to visit a very good restaurant. There were five car loads of us, and it was quite an event. The food was great, but kept coming and coming. I've now learnt to avoid the bread and take sparrow helpings of the first few courses, but it still ended up being too much. I get that there is a history of feasting here, because most of the time people were doing it really tough, but it still seems a bit crazy to go to these extremes!
The trip back involved several detours; seeing sights, stopping to purchase cheese from farm doors, etc, and so it was once again very late when we got home. Time is of course relative, and it is light until about 9pm, but not getting Eleanor to sleep until 11pm is far from ideal.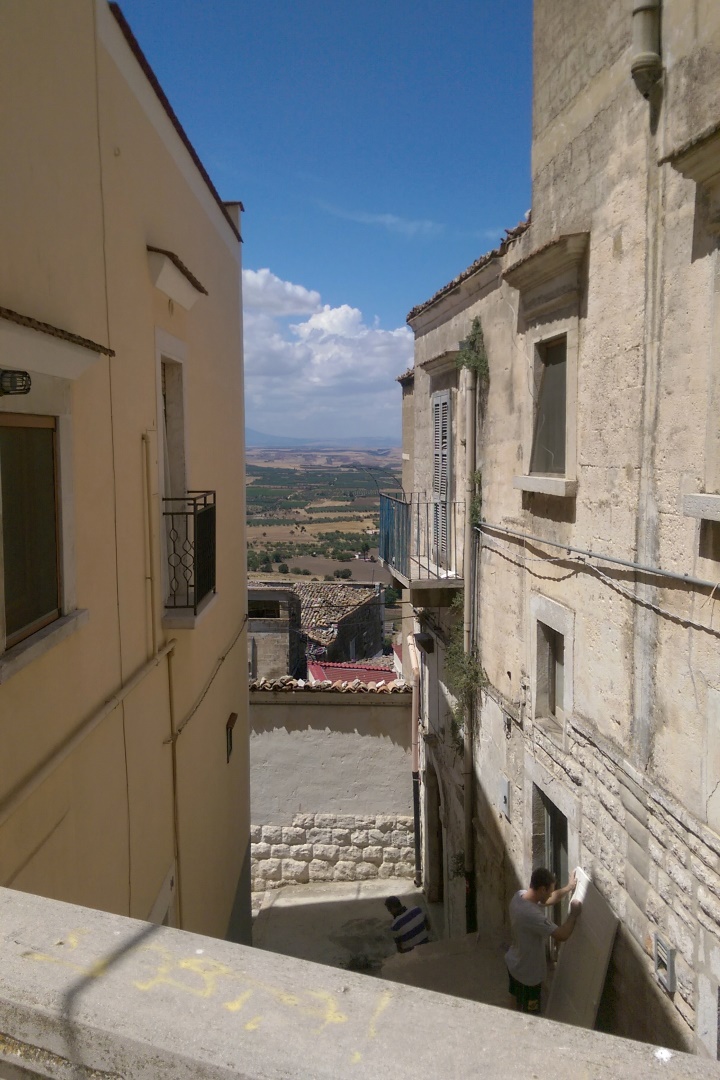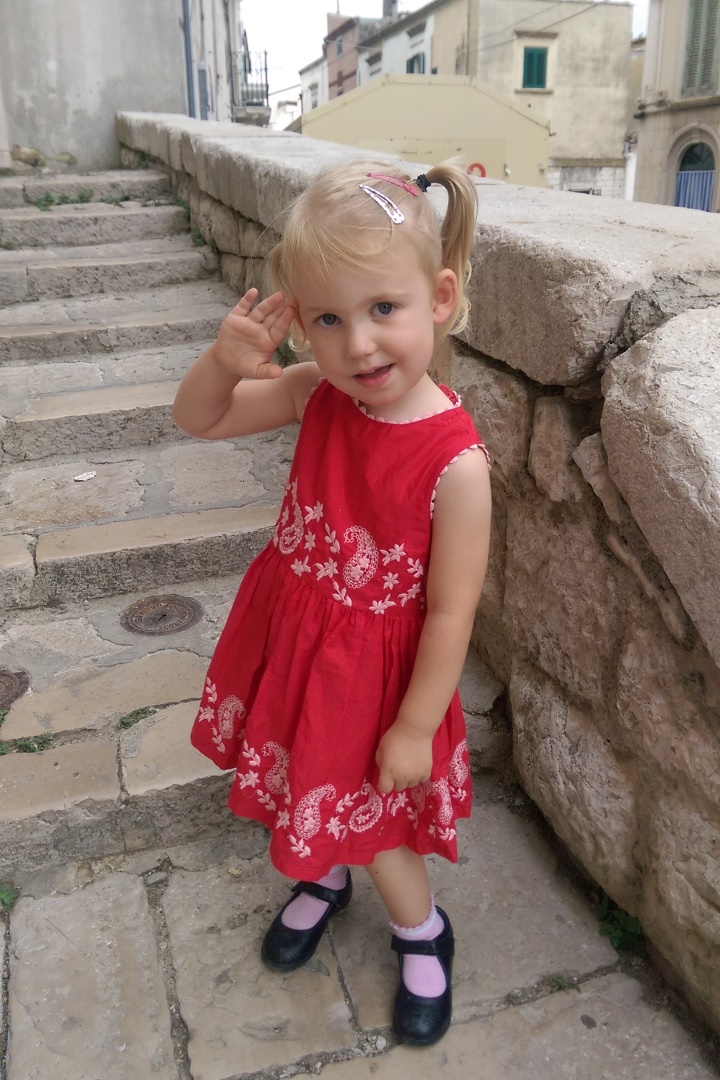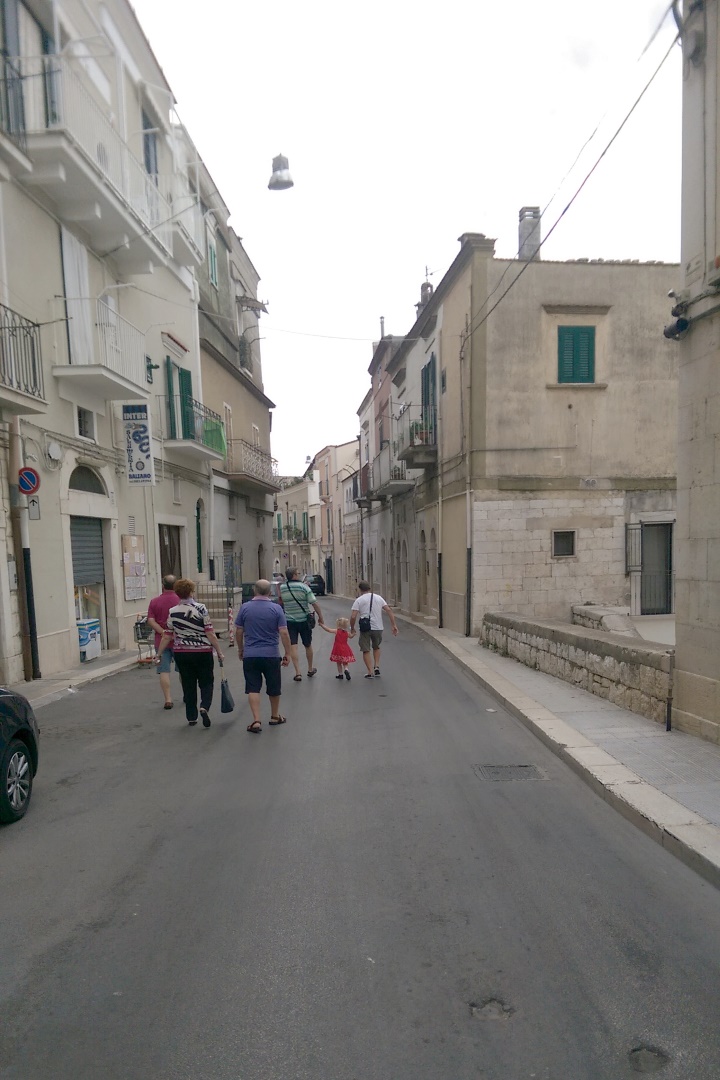 Eleanor has been quite difficult lately (no doubt from the major disruptions to her routine, although her social abilities are progressing in bounds), and we've been at a bit of a loss regarding discipline. So, it occurred to me that having thoroughly researched birth and babies, more recently I've been entirely slack and relied on Dr Google for toddler advice. So, over the last week, I've been busily reading books on the topic, which hasn't actually solve any of our issues, but did at least settle my mind, finding that the experts seemed equally at a loss to control tantrums. Having had some success with (or at least gained some comfort from) the toddler books, I realised that I'd never read anything about middle aged men either, so I'm now halfway through a good book on aging, which I'm hoping will tell me which of my aches and pains and memory losses are normal and which ones I actually should be worried about. Mostly I think I'm in good health, but maybe I should have looked after myself a bit better in my younger years. I do find it particularly amusing that it's hard to tell whether the excessive drinking in smoky pubs or the exercising in the sunlight was more damaging (my lungs and kidneys may say the former, but my feet, knees and skin would say the latter).
I've now purchased our tickets home and updated our travel itinerary. We are due back on 4th September… Assuming my credit card transactions ever get through — The fucking banks keep blocking my cards because, despite having given them a run-down of where I'm travelling, they think purchasing an airline ticket from another country is suspicious behaviour, additionally, rather than send me an email or indicate there's any problem when I log on to check my accounts (using maybe that messages feature, which seems to be only used to send me generic "urgent" messages telling me not to email my password to strangers or that the site will be offline for 2 minutes at 3am), they SMS or call my mobile, which I of course don't receive, because I'm travelling and don't want to give all my worldly worth to Telstra in roaming fees! Bloody banks! The day is coming when something like Paypal or Bitcoin will consign all bankers to the unemployment queue!
Anyway, sorry for that. Home on the 4th of September — Yippee — Get the yum-cha ready!
Cheers,
Alistair